Soccer Bookie Betting
Although NFL betting dominates the US, it is actually soccer that takes the top spot as the most popular sport in the world. As such, being the best soccer bookie means offering soccer bettors more variety and betting options than the rest.
Soccer is huge all around the globe – with some of the most exciting leagues out there – such as the English Premier League, The Spanish Primera Division (La Liga), Germany's Bundesliga, Italy's Serie A and, of course, our very own MLS. Aside from league action, there are also plenty of top tournaments to enjoy betting action on – such as the FIFA World Cup, the UEFA Champions League, Euros and more. When it comes to soccer betting sites markets, the options are practically limitless.
Your job, as a soccer bookie competing with the best soccer betting sites out there, is to bring the customer the most competitive soccer betting lines, plenty of markets, generous odds and the best way to make bets on soccer online.
How To Bet on Soccer
So, as a sports betting bookie/agent, you need to know exactly what soccer betting involves properly before you can think about competing. At Pay Per Head, along with providing you with the soccer betting software to help you stand out, we also want to provide you with the knowledge you need – which is vital to creating a standout service.
As is the case with most major sports, the competition to win over new customers is fierce. The number of soccer betting markets available are numerous and varied, with match results, individual player performances and futures… season-long predictions are always the ones to get the most attention.
The Types of Soccer Bets For a Bookie
As a soccer bookmaker, you need to be aware of the best types of soccer bets and soccer betting markets that your punters will be looking for:
Match Results
This is a simple type of soccer wager  for a bookie to manage – where your bettor simply places a bet on which team they think will win after 90 minutes. An alternative to this is a half time result which works in a similar way, with the payout being based on which team is winning after 45 minutes of play.
League or Tournament Winner
This is another straightforward and popular bet option. It basically involves predicting which team will either win the league or tournament when it comes to an end. I.e. who will win the World Cup?
Red Cards/Yellow Cards/ Number of Cards
Soccer bettors will be familiar with the yellow and red card system. In soccer, a referee will give a player a yellow card as a warning for a foul, or a red card to send them off the pitch for a serious misdemeanor. A player that receives 2 yellow cards in the same match will automatically get a red card as a result. This can be a really fun bet because it involves cheering on bad behavior. Punters can bet on the total number of red cards, the total number of yellow cards – or the total number of cards shown overall. This is a great, fun bet for a crosstown match!
Other options punters also look for include:
Total Line Bets
Total line bets are based on the total number of goals scored by both teams in a match. Scores generally aren't that high in soccer, so generally, the most common line is set at around 2.5. If a punter placed a total line wager on 'Over 2.5 goals' then should the match end with a result of 0-0, 1-0, 0-1 or 1-1, 0-2 or 2-0 then there would be a combined total of under 2.5 goals, which would mean the bet would be lost. However, scorelines over this would mean the bet would be won.
Goal-Line Bets
Goal-line bets are where the punter is betting on the difference between the two teams in terms of the score line. In soccer, goal lines tend to be 0.5 goals. However, if there is a match where one team is clearly much better then the goal-line might be either 1, 1.5, 2, 2.5, 3 or even more
Three-Way Moneyline Bets
Unlike other sports, draws are reasonably common in soccer. That means that bettors have the option of placing their bet on three different outcomes, not just two – win, lose or draw. The wager result will be based on the score at the end of the 90 minutes plus stoppage time, not inclusive of extra time or penalties etc.
Different Soccer Props Bets for Bookie
Let's look at some of the sports odds that punters will look out for when trying out props bets. 
Total goals over/under

Both to score

Player to score

Correct score

Halftime/fulltime

parlay bet

Double chance

Futures
Soccer Betting On the Go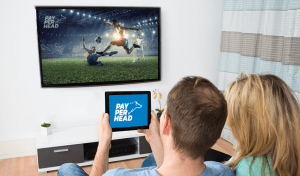 One element that is hugely important to sports bettors and soccer bettors in the US is the ability to bet on the go. People are now expecting their soccer bookmaker to give them the opportunity to place a bet wherever they are. Being able to bet on the go is now an industry standard.
As such, you need to make sure that you ensure a smooth and seamless online sports betting and soccer betting experience on mobile. This is what we help you with here at Pay Per Head.
Fast and EasyPayouts
When making any type of wager – be it a soccer bet or other type of sports bet, punters will be looking to withdraw their funds quickly and easily. You will undoubtedly be judged on this and compared to other bookmaker sites. Ideally, you will make sure that by using our software, you will be able to make this process as easy as possible for your bettor. If they have to wait for a long time to get their soccer betting wins, it's likely that you will lose them as a customer. Over a week and questions might start being asked.
How Popular Is Real Money Online Soccer Betting?
So, how popular is real money soccer betting now? If you invest in the technology, you want to get the payback right? When trying to look at exactly how much people spend on soccer bets, it's difficult to put a concrete figure on it as the industry is so big… but it's continually getting bigger.
One thing that we do know is that back in 2019, global sports betting was worth over $85 billion – and given that soccer is the most popular sport to wager on, it's safe to assume that soccer betting certainly made up a good chunk of that. So, there's definitely a lot of value in investing in real money soccer betting.
Most Popular Soccer Competitions For a US Bookie
Let's look at the most popular sports betting leagues and competitions:
MLS
It may not be the biggest soccer betting event in the world, but it's our home league and attracts plenty of interest across the US so one to concentrate on as a bookie. The Major Soccer League is the premier level of competition in the US, home to some of our finest and best players. It also attracts top European players as they come to the end of their careers, which adds a global appeal. Soccer bettors in the US love betting on the MLS and it's starting to attract more attention overseas as well.
Premier League
When it comes to the biggest domestic soccer leagues in the world, it has to be the English Premier League that attracts the biggest audiences. People all over the globe look for English Premier League odds, home to the best players in the world. If we look at the 2020/21 season, the Europa League Finals and Champions League finals were made up of three out of four Premier League teams – almost four.
World Cup
The World Cup is a huge international tournament that involves footballing nations from all over the world. The tournament is made up of 32 national soccer associations as they pit their skills against each other in a month jam-packed full of the best soccer action in the world in a real sporting extravaganza. When the World Cup is in play, the rest of the sporting world falls into the background. Soccer bettors from all across the globe enjoy the thrills of World Cup betting – so as a good soccer bookmaker, creating the ultimate coverage is vital.
Champions League
People that know about soccer will be aware of the Champions League, which is the biggest club tournament in Europe. It involves the best and most traditional teams across the continent, all fighting it out to be named the best squad in Europe. Soccer bettors can wager on the group stages, the knockout tournament – and finally, the grand final. For those looking for placing bets on some of the biggest soccer matches out there, Champions League betting is certainly worth exploring.
Europa League
Below the Champions League, the Europa League is the second-biggest club competition in Europe. It's like the baby brother of the Champions League. This does mean that the team quality is lower (as it's for those who didn't quite make it to the top competition). However, as you get to the latter stages, the competition is still as intense as any out there. As such, no soccer bookmaker should ever skimp out on odds for Europa League matches
For all of the above tournaments and leagues, aside from Moneyline wagers, markets and bet types that should be offered include:
Total goals over/under

Both Teams to Score (BTTS)

Player to score first/last/anytime

Correct score

Halftime/full-time result

Parlay bet

Double chance

Futures
Most Common Questions About Being a Soccer Bookie
Which Soccer Bet Types Are Available Online?
Being the best soccer betting site out there involves offering the following bet types on major (and more niche) soccer tournaments and leagues: Moneyline or match-winner bets, Total goals over/under, Both teams to score, anytime player to score, correct score, halftime/fulltime result, futures
How Can I Be the Best Soccer Betting Site?
The best soccer betting sites all offer the whole package and the whole experience, from sign up to withdrawal. To compete with the major online soccer betting sites in the industry, you need to think about promotions and offers to get players through the door.
You need to offer competitive soccer odds. There should be plenty of bet types and betting markets – as well as allowing players to access live betting, wagering on those games as they are in action. At Pay Per Head, our aim is to help you with this, offering you all the tools you need to be the best and compete with the best.
What Is the Average Payout Time at Most Soccer Bookmakers?
You need to be able to payout in a time that is competitive with other soccer bookmakers out there. Generally, the average waiting time for soccer betting payouts is between 48-72 hours although it can be slower depending on the payment method – and the size of the withdrawal. Be prepared to beat or match the average speed in order to keep your punters coming back.
What Makes a Good Soccer Bookmaker?
People look for soccer bookmakers for plenty of different reasons. They will even join more than one soccer betting site to hedge their bets. What makes you stand out as a good bookmaker is offering lots of bet types, generous odds, plenty of markets – and, of course, it would be wrong to deny that they also look out for promotions and bonuses such as free bets and bonuses.
If you want to compete with the biggest soccer bookmakers out there, you need have great soccer sportsbook software and make sure you are offering punters markets that are up to scratch. Here at PPH, we can help you to be as competitive as possible.
What's the Minimum Age Requirement for Betting on Soccer?
The minimum age for anyone betting on soccer in the US is 21.