Without a doubt, when it comes to online sports betting in the US, NFL football betting is king. In every single state. That is why there are lots of online betting sites that prioritize their online football betting markets in their software. Being competitive in sports such as cricket or golf is one thing, but being able to compete with the best online betting sites and mobile betting apps for NFL and football betting is quite another.
It may not have the longest season, but NFL betting is huge when it's here. People flock to place bets on their favorite teams during the regular season, postseason and, of course, when it is time for the Super Bowl. That means that you really need to up your game in every single way in order to compete. The best way to do this is by investing in our football sportsbook software. Most sportsbooks get much of their sports betting revenue from football bets – so you want to make that a key part of your sports betting business.
Attracting the Football Bettors
When choosing which online sports betting software to side with for their NFL and college football bets, sports bettors and football fans will be taking all sorts of important factors into consideration when making their decisions. As such, we have addressed all of these when developing and creating our football betting platform and software. Here are some of the reasons that you should choose our software and why those NFL bettors will choose you…
Football Live Bets Software
Live betting – often referred to as in-play betting, is a massive part of sports and football betting, especially when it comes to punters making bets on those NFL matches. As such, this is something that bettors are sure to take into account when it comes to choosing a football betting site. As such, you need to make sure that yours is up to scratch, which is what you can offer if you opt to use our value betting software.
All of the best online sports betting sites in the market currently have a very similar range of in-play and live NFL betting markets. So you need to make sure that what you can offer is every bit as good as those.
They will also be looking at the speed and ease at which they will be able to navigate your in-play section on both your desktop and mobile app.
When betting in-play, the speed at which your punter can access your markets and odds is hugely important. NFL matches are constantly changing and their in-play odds should reflect this. As such, you should offer odds that are always up-to-date and a live betting section that loads quickly and is easy to navigate.
How We Help Punters Choose Your Online Football Betting Site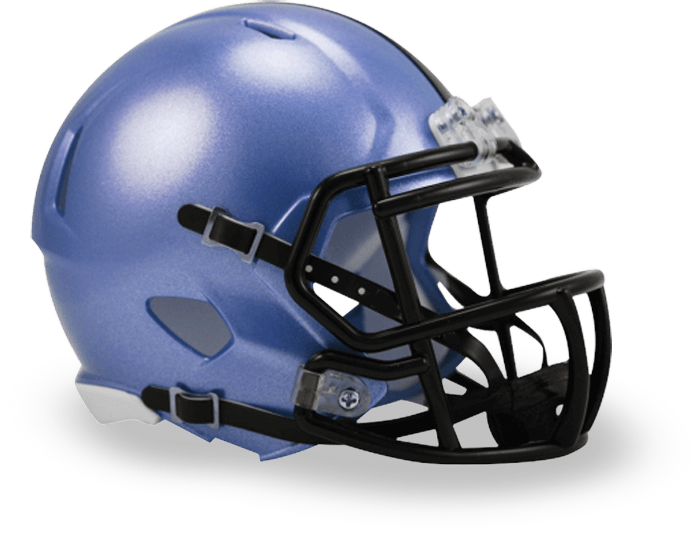 People will look to choose your betting site because betting on football online has a huge number of benefits. And with our football betting software, you will have access to the tools to offer your punters all of these – and more.
Convenience
Your betting products should be as convenient as possible to access and use. Football betting online is generally a lot more convenient compared to in-person, physical betting. When betting online, your customer should be able to open the desktop site or mobile app in just a second or two, be able to browse the markets and odds, and then place their bets without any hassle or trouble in the slightest. Being slick and quick will certainly help you to be able to attract and keep those customers.
Betting online on your site should allow your customers to compare the wide range of markets and odds on offer. 
Football Market Choices
One of the most important factors that customers will look for is a betting site that has a generous selection of markets. You need to compare favourably to the other football betting sites or you won't make the grade.
All of the big NFL online sportsbooks will offer a huge variety of markets and bets to choose from, allowing them to take time to choose the NFL markets and odds that catch their eye. Our Pay Per Head sportsbook software gives you access to the best football market choices, so you can pass this on to your customers!
Safety and Security
One hundred percent, this will be one of the most important factors that your punters will take into account. It is more than understandable that a customer, especially those new to online sports betting, will have some fears and concerns regarding how safe and secure your online sports gambling operator is, especially if they are depositing their money on your site for the very first time and they are unfamiliar with you and your product.
We offer football betting software that is completely safe and secure so that your customer can be totally satisfied that they are putting their money and personal information into a site that is safe and trustworthy.
Football Software Payment Options
The very best online football betting sites will offer a variety of payment methods. Our football betting software supports a wide number of payment gateways so that you can offer sports betting in the most convenient way for all of your customers – from bank cards to eWallets, prepaid cards and more. Moreover, the customer will want to make sure that they can get winnings quickly and easily. This is a huge trust factor and can really affect the overall customer experience.
Our football betting software allows you to offer quick, safe and secure deposit and withdrawal methods.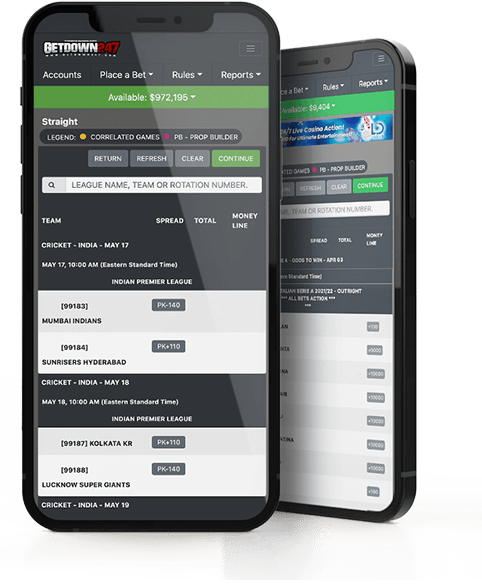 NFL Football Betting Software
You can only offer a good software product if you can offer a great NFL betting experience. To do this, you need to understand the importance of value NFL odds as well as the best and most popular NFL betting markets and events etc.
The Importance of Generous NFL Odds
When it comes to NFL and football betting, the odds are used to show how likely – or unlikely you think an event outcome is to happen. The punter then decides whether your odds fairly represent what they believe will happen. They will only place a bet if they think these odds fairly represent it – or are generous.
You will then offer these odds, indicating which you believe are the underdogs or the favorites, represented by a (-) minus or a (+) plus. The higher the number next to the negative (-) symbol, the more likely you think the outcome is. The higher the number next to the (+) positive sign, the less likely you think that outcome is. 
So, for example, if you think the LA Rams are -120 to defeat the Cincinnati Bengals, then your customer would need to wager $120 in order for them to win $100 – thus getting a return of $220.
On the other hand, if betting on the underdogs, the bets are displayed by how much they would win if betting $100. So, for example, if you price the Jacksonville Jaguars at +240 to defeat the New Orleans Saints, then if your customer wagered $100 on them, they would win $240 plus their initial stake back, giving them a return of $340. 
Customers betting on the underdogs if you offer generous odds may get you some very nice profits should the match go as predicted, but if not, being too generous can be costly
The Most Popular NFL Betting Markets
When it comes to NFL and college football betting, there are a huge variety of markets that your customer will be looking to wager on. Often, NFL betting tips and betting strategies adopted by NFL fans and bettors will involve all sorts of different bet types – all depending on the probabilities and value available. In order to compete with the top football betting sites, software and apps, you will need to offer the lot, especially the most popular, which are as follows:
College and NFL Moneyline Football Bets
When it comes to football betting – and sports betting in general, the Moneyline betting market is the simplest of the lot. You simply are offering odds on the likelihood of the team winning the match – and your customer simply decides which team they think will win and place their bets accordingly.
In this type of wager, the total number of points scored, which players score – and which players don't is completely irrelevant. They simply bet on the team that they think is the most likely to win
So, it could look something like this:
Carolina Panthers (-)120

New Orleans Saints (+)100
Your punter has simply two choices available to choose from – which one of the two they think will win. This makes it much simpler to bet on and is normally the favorite of those new to football betting
NFL Spread Betting
NFL spread betting is a way for you, as a bookmaker, to even out the odds between the favorites and the underdogs in the NFL match.
This type of bet sees the favorite given a certain number of points as a handicap. The underdog will be given the same number of points but acting as a sort of 'head start'.
If the punter opts to bet on the favorite to win, then they will need to beat the underdog by more points than the handicap given to them in order to win the bet. Generally, the more of a favorite the team is, the bigger the handicap is.
If the punter chooses to bet on the underdog, then the underdog would need to either win or lose by an amount that is less than the headstart you give them. If they lose by more than the head start, then, in that case, your bettor would lose their wager.
An example might be as follows:
Carolina Panthers  -6.5 -110

New Orleans Saints +6.5 -110
In the above example, if your punter bets on the Carolina Panthers then they would need to win the game by at least 7 points in order for their bet to be a winning one.
However, if they were to bet on the New Orleans Saints then they will win their bet if the Saints manage to either win the game entirely or lose by six points or fewer. 
NFL Totals and Over/Under Betting Markets
When betting on a totals market, your bettors are gambling on whether the total number of points in the match will be over or under the line set by you.
So, for example, you may set the line at 50.5 total points in the NFL game. If your customer bets on 'Over' then they will win their bet if the combined point score of both teams will be 51 points or more. If the total number of points combined is 50 points or less, then they would lose their wager. It would look something like this:
Over 50.5 points -110

Under 50.5 points -110
So, no matter what outcome they bet on, they would need to wager $100 in order to win $110. 
You might also offer your punters the opportunity to bet money in your football software on the number of points scored by one of the teams in the match.
For this market, they will only be wagering on how many points their chosen team has ended up scoring, with the overall points count being irrelevant.  For example,
Carolina Panthers Total Points 28.5

Under -110

Over -110
NFL and College Football Prop Betting
Football props bets (proposition bets)  are bets on outcomes that don't necessarily have a clear connection with the overall outcome of the game. There are two types of NFL props, Football player props markets and Football game props markets.
Football/NFL Player Props Markets
A player props bet is one that is placed on a market that relates directly to the numbers a particular player puts up in a match. This is a very popular type of bet amongst NFL fans and bettors as it allows them the opportunity to bet on a specific player and how well they perform individually in the match as opposed to betting on a team or even the game in its entirety.
In terms of player props bets, in order to compete with other online sports betting sites, you should offer a variety of different markets, with these ones currently being amongst the favorites:
The total number of rushing yards

The total number of passing yards

The number of completed passes

The number of touchdowns

The number of tackles they make.

 
Football and NFL Game Props Betting Markets
Aside from player props, you should also consider offering game props bets – another very popular type of prop betting. With game props bets, the punter is making a wager on the outcome of specific areas of the game that aren't necessarily entirely related to the final result of the game or the total number of points scored overall.
In order to be a competitive football bookie, you will need to offer a wide variety of game props bets for NFL games. These are certainly some that you should be looking to include:
The total number of points scored in the first half

The total number of points scored in the second half

Will the game go into overtime?

Which team will win the coin toss?

What will be the team to score first or last?

Which team will score the most touchdowns?
NFL Parlay Bets
Parlay bets are the most exciting for bettors – and possibly the most worrying for you as the football bookie. Simply put, parlay wagers are the ones that contain more than one pick combined into one bet. It could be picks from different games or it might be picks from the same game (a same game parlay). An example of a parlay might look as follows:
The Saints, Chiefs and Buccaneers all to win their games: +500
With this example, the punter would need the Saints, Chiefs and Buccaneers all to win their separate games in order for their parlay to win. If just one of the teams went on to lose their game, even if the other two picks were to win, then they would end up losing their bet. They would need all three to win in order for their bet to win.
The more games they bet on, the higher the odds for the parlay will be and the more difficult it will be – as you will need more outcomes to go their way. Potentially, this can be tricky for a bookie as, should their bets all come in, there is a lot at stake. This is something you will need to consider when offering props bets.
Live and In-Play NFL Bets
This is often the very heart and soul of NFL betting and is where the real money can be made. As such, this needs to be high up on your agenda. You snooze and you lose. In short, this is simply allowing your punters to place bets on an NFL match whilst it is already in-play.
A lot of gamblers see this as one of the best ways to bet on NFL games, as it offers them the chance to see how the game is going and then making a bet based on that knowledge.
So, for example, if the Kansas City Chiefs are -170 to beat the Atlanta Falcons before the match begins, but the Falcons go up 12 points by half time, you would need to alter your odds accordingly – giving the Falcons a better chance of winning and more favorable odds to the Chiefs.
As such, anyone betting on the Chiefs at halftime would get a better return on their wager than if they bet before the game began. Other options you will need to consider offering to compete with others include whether a certain team will reach a set number of points or which team will score next.
Our football betting software will give you the capability to offer all of this – and even more.
Football/NFL Futures Bets
All good sports betting sites offer this – and so must you. It's giving your customer the chance to bet on something that might happen in the future.
These are popular as they allow punters to place their bets early on, on any team or player that they have a good feeling about early in the season. They can then focus on other football markets in the meantime.
Futures betting is a hugely popular type of betting when it comes to NFL and College bets, with these being the most popular:
Which team will win the Super Bowl?

What will be the winning Conference?

What Division will the winning team be a part of? 

What state will the winning team come from?

Which teams will reach the Super Bowl?

What player will be named MVP?

Which team will end up with the best regular-season record?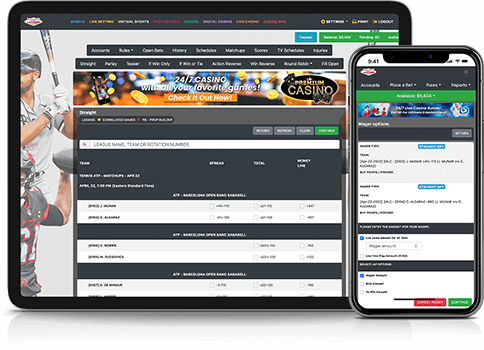 PayPerHead Football Software – Conclusion
If you are looking to provide a sports betting product that can compete with the best, then you need to have a lot of focus on the NFL football betting markets. This is the king of all sports in the US and the one that attracts the biggest betting audience. 
Competing with the best means offering lots of generous odds and betting lines, plenty of markets and bet types, an easy to use product on both desktop and mobile, lots of payment methods and total dedication to customer satisfaction.
Because we are totally dedicated to your satisfaction, we provide hassle-free betting software that allows you to dedicate yourself to your customer, so that you can be up there with the very best.
Whether they are new or experienced football bettors – and whether they prefer NFL or college football, we provide for you so that you can provide for them. Try out our best sports betting software today and be the best football bookie you can be. Find out about our Pay Per Head service now and find out why we are the Pay Per Head industry leaders.