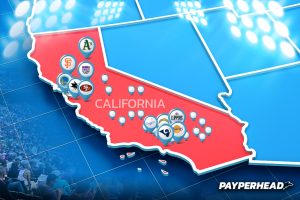 The country's most populous state, California, has a rich history of sports betting, partly because they have so many professional and amateur sports teams. Many of them have been around for many years. Many have been very successful.
Check out the rich array of major league sports teams you can root for but can only bet on if you're outside California – for now. 
NFL – National Football League
Los Angeles Rams – founded in 1936 as the Cleveland Rams out of Cleveland, Ohio, moved to Los Angeles in 1946, the year after winning the 1945 NFL championship. In 1994, they moved to St. Louis, Missouri, to become the St. Louis Rams. Then, after the 2015 season, they moved back to Los Angeles. They have won two Super Bowls and two NFL championships (pre-1970 AFL-NFL merger). They are the only franchise to win championships representing three cities: Cleveland, Los Angeles, and St. Louis.
Los Angeles Chargers – entered the AFL in 1960 in Los Angeles before moving to San Diego a year later. The Chargers moved back to Los Angeles in 2017. They have no Super Bowl wins but have one AFL championship pre-AFL-NFL merger.
San Francisco 49ers – were founded in 1946 in the All-America Football Conference (AAFC). They joined the NFL in 1949 and have become one of the most successful franchises in the league. The 49ers have won five Super Bowl championships and have many records, including playing in the most NFC Championship games (16).
Remember the Oakland Raiders? They played out of Oakland from 1960 to 1981 and again from 1995 to 2019. Between those years, they played in Los Angeles as the LA Raiders – from 1982 to 1994. They relocated to Nevada as the Las Vegas Raiders in 2020.
NBA – National Basketball Association
Los Angeles Lakers
They began their long history in 1947 in Minneapolis as the Minneapolis Lakers. They were part of the National Basketball League (NBL) but joined the rival NBA in 1948. The Lakers relocated to Los Angeles in 1960. In 2020, they won their 17th championship, which ties them with their archrival Boston Celtics for the most titles in NBA history.
Golden State Warriors – were founded in 1946 in Philadelphia. They moved to the San Francisco Bay area in 1962. They have won 7 championships, the third most, behind the Lakers and the Celtics.
Los Angeles Clippers – started as a 1970 expansion team in Buffalo as the Buffalo Braves. They moved to San Diego in 1978 and became the San Diego Clippers. In 1984, they moved to Los Angeles and became the Los Angeles Clippers, where they finally started to see some success but have not won a championship yet.
Sacramento Kings – are the oldest team in the NBA and, as such, have quite the history. In 1923, they began as a semi-professional team in Rochester, New York, as the Rochester Seagrams. In 1945, they joined the National Basketball League as the Rochester Royals, winning their championship in their first season. In 1948, they moved to the Basketball Association with three other teams, which turned into the NBA. In 1957, they moved to Cincinnati, becoming the Cincinnati Royals. In 1972, they relocated to Kansas City, becoming the Kansas City-Omaha Kings. They eventually shortened the name to Kansas City Kings. In 1985, they moved to Sacramento, where they had the most consecutive losing seasons in NBA history (16). They are also in the most prolonged active postseason droughts in the NBA.
NHL – National Hockey League
San Jose Sharks
Founded in 1991, they were the first NHL team in the Bay area since the California Golden Seals. The Seals were part of the NHL from 1967 to 1976. They relocated to Cleveland in 1976 and merged with the Minnesota North Stars in 1978. Eventually, one of the minority owners of the Seals was allowed to bring an expansion team back to the Bay area and allowed to take a certain number of players from the North Stars to the new club. The Sharks have yet to win a Stanley Cup.
Los Angeles Kings – were part of the expansion of 1967. In 1988, the Kings traded with the Edmonton Oilers to get their captain, Wayne Gretzky, who helped raise the sport's popularity in the area. They have won 2 Stanley Cups.
Anaheim Ducks – were founded in 1993 by the Walt Disney Company as the Might Ducks of Anaheim. The name was inspired by the 1992 Disney movie The Mighty Ducks. When the Ducks were sold to Henry and Susan Samueli, they rebranded them to the Anaheim Ducks in 2006. That was also the year they won their only Stanley Cup Championship.
MLB – Major League Baseball
San Diego Padres – Started in 1969. World Series titles: 0.
Los Angeles Angels – Started in 1961. World Series titles: 1, in 2002. Location: LA with fans from all over the country.
Los Angeles Dodgers – Started in 1883. World Series titles: 7 (first in 1955. Last: 2020). One of the most popular MLB franchises of all time. They relocated from Brooklyn in 1958, where they were the Brooklyn Dodgers.
Oakland Athletics
Starting in 1901, the Oakland A's relocated from Kansas City in 1968. They have nine World Series titles.
San Francisco Giants
Like the Brooklyn Dodgers, the Giants started in New York in 1883. They began as the New York Gothams but were renamed the New York Giants three years later. They moved to San Francisco in 1958. World Series titles: 8
College Sports
Along with the professional teams, several in-state college teams have big followings for watching, following, and betting. With so many teams, catching a game in your area is easy, no matter where you are.
College Football
There are 32 college football programs in California (in alphabetic order):
Azusa Pacific Cougars football

Bakersfield Renegades football

Cal Lutheran Kingsmen football

Cal Poly Mustangs football

Cal State Northridge Matadors football

California Golden Bears football

Chapman Panthers football

Claremont-Mudd-Scripps Stags football

Fresno State Bulldogs football

Humboldt State Lumberjacks football

La Verne Leopards football

Loyola Lions football

Occidental Tigers football

Pomona-Pitzer Sagehens football

Redlands Bulldogs football

Sacramento State Hornets football

Saint Mary's Gaels football

San Diego State Aztecs football

San Diego Toreros football

San Francisco Dons football

San Francisco State Gators football

San Jose State Spartans football

Santa Clara Broncos football

Stanford Cardinal football

UC Davis Aggies football

UC San Diego Tritons football

UCLA Bruins football

United States International Gulls football

USC Trojans football

Whittier Poets football
College Basketball
College basketball is even more prevalent in California. Following are the NCAA div I schools:
California Baptist University Lancers

Cal Poly State University Mustangs

Cal State University, Bakersfield Roadrunners

Cal State University, Fullerton Titans

Cal State University, Northridge Matadors

University of California, Berkey Golden Bears

California State University, Fresno Bulldogs

California State University, Long Beach State Beach

Loyola Marymount University Lions

University of the Pacific Tigers

Pepperdine University Waves

California State University, Sacramento State Hornets

Saint Mary's College of California Gaels

University of San Diego Toreros

San Diego State University Aztecs

University of San Francisco Dons

San José State University Spartans

Santa Clara University Broncos

Stanford University Cardinal

University of California, Davis Aggies

University of California, Irvine Anteaters

University of California, Riverside Highlanders

University of California, San Diego Tritons

University of California, Santa Barbara Gauchos

University of California, Los Angeles Bruins

University of Southern California, Trojans and Women of Troy
Online Sports Betting California
A recent Supreme Court decision said that each state could decide if they want to allow gambling in their state. With that, many are anticipating that California will legalize sports betting soon. Online sports betting has been around for over 20 years. Once sports betting in California becomes legal, it will quickly grow into a massive market.
Latest California Sports Betting News and Updates
Although we don't have legalized sports betting in California yet, legislators are pushing to move it forward as soon as possible. Keep checking the gambling and sports betting legislation to be ready when California can finally bring sports betting to the public.
California Sports Betting FAQ
Is online sports betting legal?
Not yet. Sports bettors must wait until at least 2024 before they can work with mobile sports betting. Right now, you can bet at the horse track or with daily fantasy sports at tribal casinos.
Available Sports Wagers At Legal California Online Sportsbooks
Online sports wagering is not legal yet. Sports fans can bet at the race track or 
California sports betting bills and recent efforts
Prop 27 failed to pass in 2022. It needed tribal support but didn't get it. 
What is the legal gambling age in California?
You can go to the track once you hit 18.
Is horse racing betting legal in California?
Yes. California has had a long history of horse racing and betting and continues to keep it legal. There are several racing tracks around the state.
Potential California online sports betting sites
You currently have to go to offshore sites to bet on California sports. Is it legal? It's a grey area. 
California Sports Betting: Looking Ahead After Online Wagering Initiatives Fail
Many California voters want to legalize sports betting. They have to find a way to make it agreeable to the tribes which control most of the current betting. Once that is done, there's no reason not to have legal sports betting and online sportsbooks in California.