Try Out Table Tennis Online Betting Software
for Pay Per Head Agents
Although table tennis doesn't necessarily have pride of place on prime time television in the way football or basketball does, nonetheless, every day in the US, hundreds of thousands of dollars are being wagered on table tennis matches using sportsbook software. This might be on a random game between two international players that you've never heard of – or it could be the final of the World Table Tennis Championships. It really doesn't matter… punters in America are quite partial to betting on table tennis competitions. Now, with online gambling being legalised across the country – and more punters looking for the best table tennis odds, it's time for you to get a slice of the action.
Here at Pay Per Head, we can provide you with top-quality table tennis online betting software so that you can give other table tennis betting sites a run for their money. With our help, you can offer punters an excellent table tennis betting experience, with table tennis odds on all different competitions – from the biggest table tennis leagues in the US to European table tennis from table tennis live betting to table tennis futures betting. With so much money going into table tennis wagers, it's time for you to take a slice of the pie.
Why Use Our Table Tennis Betting Software?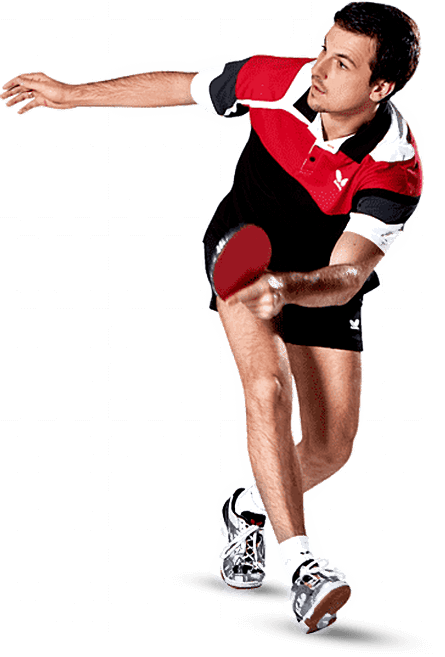 At Pay Per Head, our aim is to offer the best sportsbook software possible – and value for money. Whether you're looking to offer wagers to just a small group of local punters, or expand your service and try to compete with more successful table tennis betting apps.
The punters that bet on table tennis love the thrill and excitement of betting on the unknown. They want to put their cash where there are generous table tennis betting lines, where they can bet on future matches or partake in live table tennis betting… and they want to have an excellent experience as they do. Your job is to give them this service and our job is to provide you with the software that enables you to do so. So they keep coming back for more.
When you choose your table tennis sports betting software, you need to make the right decision – having complete faith that you are getting value for your money and giving punters value for their money. Together, we need to make sure that they never walk away feeling disappointed.
Software for Table Tennis Betting: Legitimate and Safe
People will only trust you with their bets if they believe that you are legitimate and trustworthy. In order for them to rely on you, you need to be able to rely on your software. We can guarantee that your Pay Per Head table tennis betting software is totally legitimate, trustworthy and safe.
Compatible with Mobile and Smartphone
People in the US love to bet on their cell phones. That's why there has been a rise in the popularity of table tennis betting apps. This means that you need to offer a table tennis betting experience that works as well on mobile and smartphone as it does on desktop. That's exactly what we can offer here at Pay Per Head.
Pay Per Head Table Tennis Software
It may never quite attract the attention of football betting or NBA bets, but there is still quite a substantial profit to be made from punters betting on major table tennis events. Table tennis bettors make a point of following the action from all over the globe – and there's nothing they like more than putting a bet on the match winner of the latest game of ping pong – or even enjoy a bit of in-play betting on who will win the next point. In the world of online sports betting, it's fair to say that ping pong betting is overlooked and underrated by many online betting sites. That's great news for you though. Whilst major sites focus on the major leagues, you can focus on table tennis by differing a service that is simply better value than the rest.
With the rise in popularity of Table Tennis leagues and tournaments within the US, more people now want to make bets on the sport – and competition is fierce to get those new bettors through their doors. That means that you have to provide a service that is better value for money than the rest. Our Pay Per Head table tennis betting software costs just a small amount per month, but allows you to give your punter an exceptional experience, which is good news for everyone.
Why Our Betting System is Better Than the Rest
If you want to keep your regular customers coming back to you, then you need to offer them great ping pong betting options and opportunities. It really is that simple. This means offering them ample table tennis betting odds and markets on all events – table tennis leagues across the world, International Table Tennis Federation and European Table Tennis Union tournaments, the Table Tennis World Cup, World Table Tennis Championships and more.
By using our Pay Per Head software, you can offer them all of that… and much more!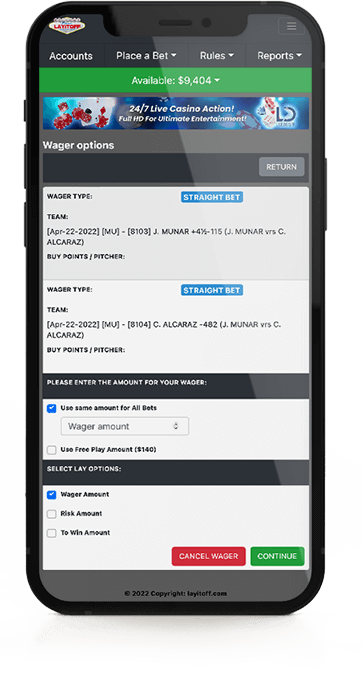 Profitable Table Tennis Betting Software
The only real way you can build up and run a successful table tennis betting product is by offering a good product. It needs to offer a holistic approach, encompassing a whole betting experience – value odds, futures, lots of bets, in-play betting and more. The more you offer, the more they can bet. Table tennis betting is about more than just moneyline wagers on the match-winner – the real value is often found outside this – in parlays and props etc. The more table tennis betting markets, the better.
Table Tennis Betting Made Easy
Betting on table tennis should be fun and simple. As such, your job is to provide a smooth and seamless interface so that your customers can find the bets, matches and tournaments they want to bet on easily. Your customer should find it user-friendly and so should you.
 Types of Wagers 
When investing in our software, here are the types of bets you will be able to offer your punters:

Table Tennis Moneyline Wagers
This is the largest and most popular table tennis betting market – and it offers the largest handle for any sports betting site. It's simply a bet on who will win the table tennis match. There are simply two outcomes to bet on – player A winning or player B. It's as simple as that.

Table Tennis Totals
If a punter isn't too sure on who will win – then a good table tennis betting strategy would be opting for a totals bet – which is betting on over/under on table tennis events. This means that the punter doesn't have to predict who will win, simply wager on how many points will be scored in the match. The punter simply has to predict whether or not the total points scored in the match will be over or under the amount set by you, the bookie. 

Table Tennis Parlays
If your punter has received multiple table tennis betting tips – and they want to combine their knowledge into one big bet to make big money. This is hugely popular with bettors looking for a big return from a smaller stake – so certainly one type of bet that you, as a bookmaker, needs to know about. Ultimately, these work in the same way as other sports parlays – betting on several matches at the same time. Big risks, big rewards – and decent profits for the bookmaker as well.

Unique Table Tennis Bets
There are other ways for punters to win money on table tennis match bets that aren't available with many other sports. Other bets you could be offering using our table tennis betting software includes – the exact number of games the players will play in a table tennis match, which of these games might be decided by extra points. Options also include first game-winner, second game point handicap and more. The possibilities are endless!

Props Bets
As with other sports, punters should also be able to come over to you to place prop bets in table tennis. These are often quite a lot of fun – and it's important to offer your customers some of the fun experiences as well. These aren't usually anything to do with the outcome of the match. Examples include betting on who will win the first serve between the two competitors, which of the players will win the first game etc. To get your customers coming back, you need to offer what they are looking for – which can be all sorts. Our software means that your product can have just as much variety as the very best table tennis betting sites out there.
History of Table Tennis and Table Tennis Betting
Being a good table tennis betting provider means not just having the best software, but knowing your sport. People want to bet with agents that are passionate and knowledgeable about their sports and products. So, here are some of the most important things you need to know about the history of table tennis and table tennis betting.
The game was originally called Ping Pong and was first played in England in the early 20th century. It was only renamed Table Tennis in 1921-22 when the Ping Pong Association came back into existence, having broken up in 1905.
It was only in the 1920s that it started to become more globalized – with people playing it in all different countries – and this started attracting table tennis bettors. The result of this was the creation in 1926 of an association led by representatives from England, Hungary and Germany, and named the International Table Tennis Federation. In the beginning, it included members from England, Hungary, Germany, Sweden, India, Denmark, Austria, Czechoslovakia and Wales, but by the mid-1990s, it had grown to include 1965 member nations.
One of the first major betting events was the Table Tennis World Championships and World Team Championships, which was held back in 1926 in London. Following this came numerous World Championships tournaments, hosted in countries all across the world. In fact, in the 1970s, table tennis matches were used as a tool to ease the Cold War tensions between The US and China. In 1998, it was the very first time that table tennis was featured as an Olympic event – men's singles, women's singles, doubles and mixed doubles.
Sports bettors have been putting table tennis odds on their bet slip ever since… and betting on table tennis has never been more popular.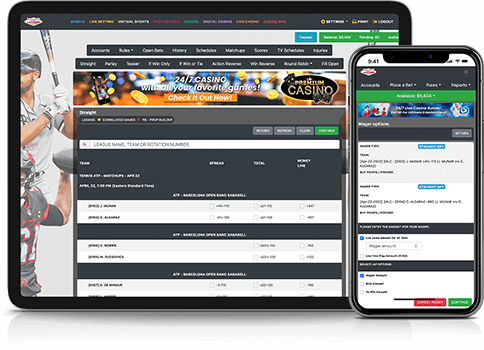 Conclusion – Betting Just Got Better
By choosing our Pay Per Head table tennis betting software, we want you to feel that both you and your customers are getting the very best table tennis betting experience possible – whether on desktop or mobile. Our aim is to ensure that you can always offer your customers the bets that they are looking for – on the player or event of their choice. Your goal is to offer your customers a betting experience that keeps them coming back for more – and our job is to make sure that you have the tools to do this.
However, this is more than being just about your customer – you and your success is also important. You need to understand the risks you take and mitigate them, to make sure that you are running a profit. Offering a bookmaker service will always come with an element of risk – whether it's steam bets – or having a big parlay come in. Our Pay Per Head software tools and resources ensure that you will be able to offer the best table tennis betting options, whilst minimizing your own risks so that everyone ends up having the best table tennis betting experience. Contact us to find out more