On Thursday, April 7, the best golfers head to Augusta National in Georgia to play the first PGA Major Tournament of the year. The 2022 Masters Golf Tournament should produce fireworks like no other because Tiger Woods has decided to tee off. Check out the odds on Tiger, how to manage those odds, and why PPH sports agents should set max limits on all options in all four rounds of the 2022 Masters Tournament at Augusta National. 
The Masters golf event is the first significant PGA event of the year. The Professional Golfers Association has four major events each year. For each, golf fans will be out in force.  
Majors are the top tournaments during the PGA Tour Regular Season. The first is the Masters. Unlike the U.S. Open, PGA Championship, and The Open Championship, the Masters Tournament takes place at a single location, Augusta National.  
Augusta National Golf Club in Georgia, is always the site of the Masters golf tourney. This year is no exception. 
In 2021, Hideki Matsuyama won his first major tournament at Augusta. The Masters winner gets the coveted green jacket.
At the Masters, the previous year's open championship winner puts the green jacket on the current year's winner. So no matter how Matsuyama performs, he will put the green jacket on the winner at Augusta National Golf Club on Sunday.
One of the most popular Masters champions in history, Tiger Woods, has said he will play. Will Hideki Matsuyama end up putting the green jacket on Tiger Woods?
Will one of the former Masters champions take home the green jacket?
Keep reading why you should set max betting limits on the Masters Golf Tournament at Augusta National. Also, see why pay per head agents should revise max betting limits after every round.
2022 Masters Golf Tournament at Augusta National
When:

Thursday, April 7 – Sunday, April 10

Where:

Augusta National Golf Course, Augusta, GA

Broadcast Net / Streaming:

CBS / Paramount+
Top 10 Masters Tournament Options – DJ is The Top Overlay
Jon Rahm +1200

Last year at Augusta National, Rahm shot a 66 final round to finish at -6 and 4 strokes off the winner. Rahm must play well starting in the first round. Pay attention to his Thursday score and read our section on whether per head agents should set max limits on Rahm to win rounds two through four and the first PGA Tour major of the year. 
We also discuss setting max limits on Tiger Woods. Read through the rest of the top ten before getting our take on Rahm's and Tiger's chances to win the 2022 Masters Tournament. 
Justin Thomas  +1300
Justin Thomas finished at even-par in last year's tournament. He heads to this year's Masters with three top-ten finishes in three of his previous four tournaments.
One thing to note about JT is that he played his worst in the most critical golf event of the year prior to the first PGA Tour major of 2022. Justin Thomas finished thirty-third at TPC-Sawgrass. 
Cameron Smith +1500
Smith's -3 at the 2022 Augusta National Golf Course tourney makes him one of the top choices to win this year's green jacket. Cameron won The Players Championship earlier in the year.
For Smith, it could come down to his tee shot. If his tee shot is working on the back nine holes, he could do well if he averages more yardage from his tee shots than 64.32.  
Dustin Johnson +1500

At last year's PGA Tour major at Augusta National Golf Course, Dustin Johnson missed the cut with a +5. The performance was so awful that many might question whether DJ has a shot in this year's tourney.
In mid-March, Johnson struck the ball well in the final round at the Valspar Championship. He spent the last few weeks working on his swing. So we should expect DJ to show his best form this week.
If Dustin Johnson shoots a superb final round at Augusta, DJ's best round during a tournament is often the last, he could win. A victory in Georgia could set the tone for a career-defining moment at The Open Championship. 
An Open Championship victory would mean Johnson completed the career grand slam in golf because DJ has already won the U.S. Open and PGA Championship. 
Also, Johnson is one of those past champions. So he's a serious contender. 
Scottie Scheffler +1500
In Georgia, Scheffler's -1 at the 2021 PGA Tour major was good enough for an eighteenth-place finish. Scheffler won the Arnold Palmer Invitational.
At TPC-Sawgrass, though, Scottie failed to finish in the top fifty. He finished in fifty-fifth place. 
Jordan Spieth +1900
The former top-ranked golfer on the planet and multiple PGA Tour major winner had a great Masters Tournament last year. He shot a -7 to finish three strokes off Matsuyama. 
Spieth must reverse his current form to be close to the leaders in this year's tournament. After placing second at the AT&T Pebble Beach Pro-Am, Jordan finished sixtieth at the WM Phoenix Open, twenty-sixth at the Genesis Invitational, missed the cut at The Players Championship and finished thirty-fifth at the Valero Texas Open.
Like DJ, Spieth is one of the past champions that can win the tournament. Unlike DJ, Spieth's chances are worse than his odds.  
Brooks Koepka +1900
Like some other contenders on this list, Koepka missed the cut at the 2021 Masters Tournament. The former green jacket winner missed the cut at The Players Championship earlier this year. 
Brooks also missed the cut at the Genesis Invitational Tournament. Set max limits. But Koepka shouldn't win the Masters. 
Rory McIlroy +1900
McIlroy shot a +6 at last year's tourney. So not only did he miss the cut, but he finished a stroke off Koepka at +5. 
Also, Rory is a past Augusta National Golf Club Masters winner, but this year, he's not hitting the ball well. He followed up a thirty-third place finish at The Players Championship with a missed cut at the Valero Texas Open.
If McIlroy has a good practice round and shoots well on Thursday, he could turn the form around enough to win this.  
Viktor Hovland +1900
At the 2021 Augusta National Golf Club tournament, Hovland finished at even par. He could have a much better finish at the 2022 event.
The key for Viktor is to bounce back from the thirty-third at the Valspar. He might put on the green jacket if he hits the ball like he did at TPC-Sawgrass, where he finished ninth and shot a 68 round 3 and 69 final round.
Check out Hovland's practice round. If he shot well during practice and shoots well on Thursday, give him a much better shot than the odds indicate, which means you must set max limits or use your layoff account.  
Should PPH bookie agents set max limits on favorite Jon Rahm? 
Rahm isn't playing well. Since a tenth-place finish at the Waste Management Phoenix Open, Rahm has played a couple of tournaments over par. 
Set max limits to be safe. But the chalk doesn't look ready to win the first major tournament of the year. Rahm is underperforming compared to the previous calendar year. 
The next major is the PGA Championship in May. Rahm should be more in tune with his sticks at Southern Hills Country Club in Tulsa than he should be for the Masters. 
How about max limits on Tiger Woods?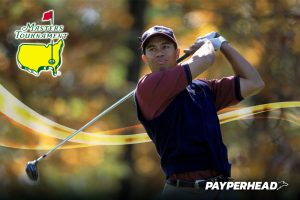 Tiger Woods has had great practice round after practice round. A few of his peers said the old Tiger Woods is back. 
The +5000 odds on Tiger Woods make him a layoff account must. If rival Phil Mickelson had entered, Tiger's odds would be higher, yes, but Phil Mickelson is on the bench after the Saudi Arabia controversy.
We won't get into that. If any golfer could come back after a multiple-year layoff and win a green jacket, it's El Tigre.
Tiger Woods has had great practice round after practice round. A few of his peers said the old Tiger Woods is back.  
Woods won his fifth Masters in 2019. He can pull off another shocker. So set max limits on the greatest golfer in history. 
Transfer players and use PayPerHead proprietary software free for two weeks
Transfer players to PayPerHead, and you can set max limits on top betting events like the PGA Masters Tournament, use your layoff account to cut risk, and make agent payments and collect online. 
With our sportsbook software, you can run a book that rivals U.S.-based organizations like DraftKings and FanDuel. Add prime platforms, offer props betting and 3D games, and watch your bottom line soar.
Right now, you can use the best bookie software in the industry free for two weeks. Call 1-800-605-476 and join today.