On March 15, the best NCAA Division 1 college basketball teams in the nation begin their quest for the National Championship in first game contests at the 2023 NCAA Tournament. March Madness is here, which means pay per head agents had better for bookie betting action that's bound to land. Every year, March Madness is the story both in sports and for online bookie agents.
The 2023 March Madness NCAA Tournament will be no exception. This year's March Madness NCAA Tournament boasts some of the best teams of the year and some of the best NCAA Tournament programs in history, like the Blue Devils of Duke.
Also, teams like Utah State, Grand Canyon, Kent State, Oral Roberts, Kennesaw State, and Boise State get their crack at the college hoops National Championship. Called NCAA Division 1 mid-majors, each March Madness season, a program like Boise threatens to cut down by winning their NCAA Tournament Regional Final.
But when it comes to winning the National Championship, 1 and 2 seeds are the stars. Keep reading for a reprint of this year's 2023 March Madness NCAA Tournament bracket.
Then, check out profiles for the teams likeliest to make the Final Four and win the title.
2023 NCAA Tournament schedule: March Madness bracket, game dates, locations, tipoff times, TV channels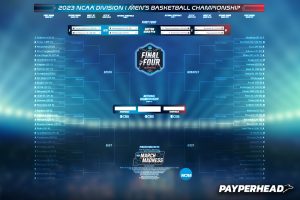 National Championship Contenders
1 seeds and 2 seeds win more titles than any other seeds. Because that's the case, knowing which NCAA Division 1 team attracted the top two seeds in each division is essential.
NCAA Tournament Appearances – Top Seeds
Sports betting software agents must set max limits on the following squads. Each team listed has the talent and got a good enough draw to win the NCAA Division March 1 Madness Tournament.
The March Madness tourney is for NCAA Division schools only. So consider the following eight teams the best of the best.
South Region
1-Alabama Crimson Tide
Bama is known as one of the country's top football schools. The Crimson Tide isn't known as one that can win March Madness Tournaments.
The Tide is known so much as a football school that basketball head coach Nate Oates is unknown outside of the SEC. But this sports season, Bama's football team floundered while many expect the hoops team to end up in the March Madness Championship Game.
2-Arizona Wildcats
Tommy Lloyd took the HC job at Arizona before last season. During the 2022 March Madness Tournament, Lloyd led the Wildcats to a first round victory and the Sweet 16.
This season, Lloyd believes players like Oumar Ballo, Azuolas Tubelis, and Kerr Kriisa can lead the Cats to the 2023 March Madness Final Four.
East Region
1-Purdue Boilermakers
If bookmaker software agents don't set limits on number 15 Zach Edey and the Purdue Boilermakers, they could get burned. Purdue is a +1100 free bookie software choice to win the championship game.
Edey dominates on the boards, averaging close to 13 rebounds per game, and on the scoreboard, Purdue's 7′ 4″ center averages over 22 points each contest.
2-Marquette Golden Eagles
For a 2-seed, Big East Tournament, and regular season champion Marquette is getting zero love. The March Madness odds to cut down the nets on April 3 are at +2500.
Betting agent software bookies must set limits. Marquette won the 1977 March Madness Tournament. Although a long time ago, this season's squad is better than the '77 team.
Midwest Region
1-Houston Cougars
Houston's defensive efficiency is unparalleled. Head coach Kelvin Sampson has built a juggernaut of a hoops squad, one that allows a ridiculous 56.5 points per game.
Opponents shoot 36.5% from the field and 28% from three versus Houston. March Madness bettors have already flocked to the Cougars to win the title.
March Madness odds peg Houston a +550 chalk to take it all. For sure, price per head agents must set max limits on the Cougs to win the March Madness Championship game. An Elite Eight trip is almost a sure thing.
2-Texas Longhorns
The Texas Longhorns began a new era in the middle of the season. Longhorns head coach Chris Beard got the boot after domestic violence allegations.
Although the charges dropped, Beard never returned. Texas prevailed, winning the Big 12 Tournament last week.
The Longhorns have beaten West 1-seed Kansas twice during a 5-game winning streak. Bookmaker website agents are taking some money on the Horns.
Texas is built for the March Madness Tournament. They're a good enough team to get it done. So limit how much action you will take on the Longhorns to win it all.
West Region
1-Kansas Jayhawks
Most college bookie website handicappers didn't expect 2022 March Madness titlists Kansas to repeat as a 1-seed. The Jayhawks were loaded last season.
Many thought Bill Self's team would take a backward step this season. But Kansas didn't step back at all. The Jayhawks are a Sweet 16 contender for sure.
Watch Kansas' first round game. We'll know soon if the Jayhawks are as talented this season as they were last season. If things break their way, Rock Chalk should at least make it to the Elite Eight.
2-UCLA Bruins
UCLA has great fans and has performed well versus top competition. When you face Arizona three times in a season, win a game, and lose another by 2 points, you're playing well against stiff competition.
But although UCLA is good enough to win the Big Dance, a Sweet 16 berth for the Bruins could be challenging.
UCLA has scorers, a high ranking, and a robust title game history. But getting to the 2023 March Madness title game won't happen because of injuries. That, and the fact the Bruins may have to battle Gonzaga if they make it to the Sweet 16, make the Bruins a tough play.
That doesn't mean a betting agent like you shouldn't set max limits. Always err on the side of caution.
Run your business with the best bookie software on the planet
Open a pay per head sportsbook with us and use the industry's safest, most secure, and profit-generating sports betting software.
By joining, you can participate in a referral program that pays you $500 for every referral and up to 17% per month on your referrals' deposits for a year. Not only that, but we'll handle transferring players from your current PPH sportsbook provider.
Join now. Also, remember that if you have 100 or more players, call us at 1-800-605-4767.