Sweet 16 2023 NCAA Tournament
The NCAA Tournament heads to its second weekend, which means it's Sweet 16 time. The NCAA Tournament March Madness Sweet 16 tips off on Thursday, March 23. Then on Friday, March 24, the Sweet 16 finishes. Pay per head agents must know as well as info for bookie betting agents to make winning plays.
But the end of this year's Sweet 16 doesn't mean the Men's NCAA Tournament takes a breather over the weekend. The 2023 March Madness Men's NCAA Tournament continues into the weekend.
After the Sweet 16, we get to watch Sweet 16 winners throw down in the Elite Eight. Check out previews for every Sweet 16 game and ways to manage action in your pay per head sportsbook.
NCAA Tournament Sweet 16 – Thursday, March 23
Madison Square Garden – New York, NY
East Region
7-Michigan State Spartans -2 vs. 3-Kansas State Wildcats
The East Region gets things going with the first Sweet 16 game. Tom Izzo coached Michigan State and the Kansas State Wildcats throw down in what should be one of the most competitive Sweet 16 matchups during the tournament.
Izzo's team made it to the Sweet 16 after two scintillating wins. The Spartans beat USC in the first round. Then in their second round game, Michigan State got past 2-Marquette 69-60.
The second round victory is why so many teams are all over the Spartans in this East Region throwdown. MSU dominated the second half against the Golden Eagles.
Based on the second round victory, the Spartans should roll. But that may not happen. Price per head agents must use their layoff account because the action is going K-State's way after all the early money landed on Sparty.
9-Florida Atlantic Owls vs. 4-Tennessee Volunteers -5.5
Most felt that Florida Atlantic and Tennessee would fall in the second round, but here both are, playing in the Sweet 16.
Florida Atlantic has yet to beat a team that could contend for the Final Four. Tennessee, though, took down the Duke Blue Devils in their second round match.
Only one team can be victorious in this, and it sure looks like the team will be Tennessee. The Vols shoot less than 71% from the free throw line.
So if it's close at the end, FAU could mount a comeback as they did in their first round victory over Memphis. Bookmaker software agents must set limits on an Owls' money line score even if they believe the Volts easily cover.
T-Mobile Arena – Las Vegas, NV
West Region
8-Arkansas Razorbacks vs. 4-UConn Huskies -3.5
In their first round game, Arkansas easily handled Illinois 73-63. In their second round game, Arkansas knocked off 1-Kansas 72-71, so some believe the Hogs will win this Thursday West Region game outright.
But unlike Michigan State versus Kansas State, the Razorbacks face a Big East team with the talent to become this season's National Champion. UConn is the only team in the tournament that consistently uses nine players.
Connecticut was one of the first weekend winners, blasting Iona by 24 in the first round. Their second round win came by 15 against Saint Mary's. Connecticut is terrific at grabbing offensive rebounds for second chance points.
Upsets to top seeds have left UConn, a dominating regular season team, one of the remaining Men's NCAA Tournament favorites. However, Arkansas beat Kansas, and although Bill Self wasn't there to coach, the Hogs' victory in the first week means they can
3-Gonzaga Bulldogs vs. 2-UCLA Bruins -2
The Gonzaga stat line in their first round victory over Grand Canyon suggests the Zags are in trouble versus UCLA in this Sweet 16 game.
But the Bulldogs handled the Antelopes in the first round by 12. Pay per head agents shouldn't let the final score in the Zags' second round contest fool them.
The Zags' leading scorer, Drew Timme, dropped double figures onto TCU. A couple of late three point shots accounts for the 84-81 score.
The lower seed in this can win straight up. It will be challenging because UCLA dominated UNC Asheville 86-53 in their first postseason NCAA Tournament contest.
Then again, the Bruins beat Northwestern by 5. So the Zags' chance of winning this is good.
KFC Yum! Center – Louisville, Kentucky
South Region
5-San Diego State Aztecs vs. 1-Alabama Crimson Tide -7.5

The South Region is Alabama's to lose. Most believe that Bama not only plays on Sunday night but will also handle rival San Diego State via close to a double digits victory in this Sweet 16 matchup.
Alabama beat Texas A & M Corpus Christi in the first round. Then in the second round, the Tide handled Maryland.
SDSU's defensive efficiency ranks 15th in the nation, which gives them a chance. Alabama ranks fourth, but Brandon Miller, their best player, may not step onto the court, and if he does, he won't be 100%.
This CBS Friday matchup is one to watch for sure. Most feel the winner will have an easy path to the Final Four because their next opponent will be either Princeton or Creighton.
15-Princeton Tigers vs. 6-Creighton Blue Jays -10
Cinderella story Princeton is a tournament overlay at +10 versus Creighton. Few teams still in the tournament start four players contributing in points, assists, and rebounds.
Princeton's top scorer, Tosan Evbuomwan, is also their top point guard. Evbuomwan averages close to five assists per game.
Tosan, though, scored just 9 versus Missouri, and the Tigers beat up Mizzou 78-63. The fact Evbuomwan scored only 9 and Princeton dropped 78 on their SEC opponent is a good omen for this contest.
Also, Princeton has won 7-of-8 games, with the one SU loss happening in overtime. Princeton has covered in 6 straight games.
T-Mobile Center – Kansas City, MO
Midwest Region
5-Miami Hurricanes vs. 1-Houston Cougars -7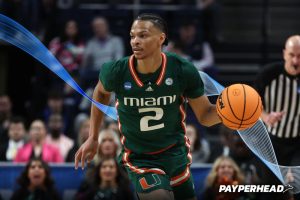 The Midwest Region is wide-open. Every team in the Midwest Region can head to NRG Stadium in Texas for a shot at the title.
The Sweet 16 matchup between Canes and Cougs sets up for a play on the Miami money line. Hurricane star Isaiah Wong has dominated Miami's opposing teams.
Wong is a March Madness monster. Miami beat Indiana 85-69 in their second matchup last week. Miami led by 5 after the first half.
Miami led by 16 before the final whistle. Getting the upset versus Houston will be tough.
But Houston star player Marcus Sasser continues to suffer from an earlier March injury. If Sasser isn't 100%, Wong can lead the Canes to an upset victory.
3-Xavier Musketeers vs. 2-Texas Longhorns -4
Don't be surprised if bookies see a big-time play on Xavier to win. The Musketeers are one of the remaining teams that appear capable of knocking off the higher seeds.
The team that wins p[lays on Sunday. Xavier's offense is terrific.
Texas has a good defense. So this can go either way. Don't worry about which team ends up playing on Sunday.
All sports betting software agents must do is set max limits on the Xavier ML and then use their layoff account to manage action on risky wagers on their online bookie site.
Use the world's best bookie software to manage NCAA Tournament action
The key to profiting with PPH software is to manage action. Not all free bookie software, or even lowest-cost leader software, offers a layoff account and relevant reports.
Switching to PayPerHead allows you to ensure a profit by studying reports and using tools like the layoff account, line mover, and bet delete. Also, by going with the best sportsbook software, agents can participate in a rock star referral program.
After each referral goes through a billing cycle, we add $500 cash into your account. Then, you can make up to 17% per referral deposit each month for up to a year.
Also, call us if you have 100 players or more. If you have 100 or more players, you can negotiate your rate and when we say you can negotiate your rate, we mean it!
It doesn't take much to get started. Sign-up or call 1-800-605-4767 and transfer your players to PayPerHead.