The 2022 NFL schedule is out, and fans are checking to see if their favorite teams are playing against their rivals or teams with their favorite players. Check your local schedule to see if there are home games you want to watch in person or if there are some intriguing matchups you want to bet on.
As much as the NFL league wants to make the 2022 schedules as even as possible between all the teams, it's impossible to do so. Following are some of the team schedules that stand out from the rest. 
Kansas City Chiefs
The Chiefs have the most demanding schedule in the league, measured by opponents' expected wins. Their first three out of four games will be on the road. They've won 12 games each year in their last four seasons but aren't expected to keep that streak alive this season.
They've also been the AFC West Division champs for six straight years but aren't expected to stay on top. The big question is, which team will be able to overtake them? The Raiders? The Chargers?
Los Angeles Rams
The Rams have the toughest strength 2022 NFL schedule. On top of that, their road schedule is also brutal. Still, they had the second-toughest strength schedule last season and were able to win 12 games. I guess there's tough, and then there's Rams tough.
Green Bay Packers
Their schedule isn't particularly good or bad, but I put them here because they have a record three consecutive 13-win seasons. That didn't help them get anywhere in the playoffs, but they stand a chance to record four straight 13-win seasons. That might depend on how they do against the Buffalo Bills in Week 8. 
Washington Commanders
On the other side of the spectrum, the Commanders have the easiest schedule in the NFL. They still have a few tough teams to go up against, like the Cowboys, Titans, 49ers, Brown, and Packers. Last season, they had to face six quarterbacks who finished in the top 10 in total QBR, while this season, they'll only be facing two. Will that be enough to improve their stats and keep them relatively healthy?
Matchups to Put in Your NFL Schedule in 2022
A few games in the 2022 NFL schedule promise to be top matchups for this season. I'm sure there are a few more, but I would put these on my calendar if I were you. Bettors will want to wager on these games even if they aren't their favorite teams.
Los Angeles Chargers at Las Vegas Raiders, Week 13
Their matchup in Week 18 of the 2021 season saw the Raiders win in overtime with a field goal. It was a game that ended up being much closer than it started out. The Chargers were out of the playoffs with that last field goal. 
Both teams should be battling for the top spot in their division before they meet. Expect a battle as the Chargers will be looking for some payback.
Green Bay Packers at Buffalo Bills, Week 8
I added this game to the list because Green Bay should do well this season in a division that's rebuilding. But seeing how well the aging Aaron Rodgers does against the NFL's quarterback of the future, Josh Allen, will give a better indication. 
It will be a contest of powerful offenses. Both defenses will have their hands full.
Kansas City Chiefs at Tampa Bay Buccaneers, Week 4
When they met at Super Bowl LV, it was supposed to be a close game. It wasn't. Not only did the almost-retired Tom Brady play at top form with an explosive offense, but Patrick Mahomes was kept in check the entire game. The Chiefs were only able to edge out nine points. 
I'm sure they persuaded Brady to come out of retirement for a proper rematch. Sports bookies will be kept busy for this one.
Buffalo Bills at Kansas City Chiefs, Week 6
The Bills and the Chiefs land on this list twice. When they last met, the Chiefs won in overtime in what is considered the best game of the 2021 season. The coin toss in overtime influenced the league to change the rules.
We're lucky to have a matchup of this caliber only one year later with two of the top quarterbacks of the NFL – Allen, and Mahomes. Add in the fact that Buffalo is predicted to win the Super Bowl this season, and you've got a super-charged game in the making.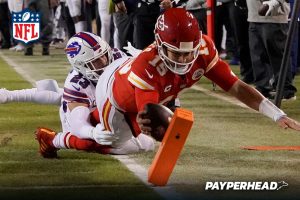 Your players will have some incredible games to bet on this NFL season. PayPerHead bookie software has all the tools you need to gain the most profits out of all those football games. Join now and get two weeks free and our new ClubPoker. See how you can make even more money between those football games. 
Agents who transfer to PayPerHead see an average increase in profits of 23%, no matter what size sportsbook they have. Join the top team in sports betting and watch your business grow.
Call now at 1-800-605-4767 and get a free consult on your bookie business.