Bookmaking has been around for over a century, longer if you count when actual bookies started accepting bets. Bookie slang, or bookies slang, began in the United Kingdom. As pay per head agents might expect, the UK's slang differs from the United States. Check out the slang words that every PPH bookie must know. 
Most cultures have slang words. Sports betting culture is no exception. When we say sports betting culture, we also mean online bookie culture.
Slang words for bookies that existed one hundred to two hundred years ago aren't the same as slang words for bookmakers today. The main reason is that most bookmakers use bookie betting software to run their sportsbooks.
The book doesn't hang out in a poorly lit room, chomping on a cigar and taking bets from a rotary phone. Some bookies might, but most bookies are eclectic in how they run their organizations.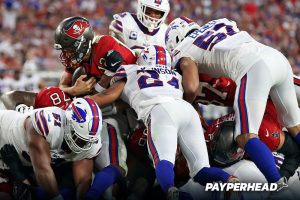 Sportsbook software allows anybody to become a bookmaker. Almost as important? Proprietary software, like the type PayPerHead provides, helps pro bookies increase revenue and profit and add players.
See below for the latest American bookie slang. We've added the words that both players and bookies use. 
American Bookie Slang – The Words You and Your Players Use
Check out the slang bookmaker words you must know. Many of your players use these words. 
There's also a good chance you know almost all of them. If so, think of this blog as a refresher.
A
Across the board
A horse racing term that refers to betting on a pony to win, place, and show. 
Action
Money that's riding on a bet. 
Also ran
A horse, NASCAR or F1 automobile, or a professional athlete in a sport like golf and tennis which doesn't finish in the top three or top four, depending on the sport.   
Angles
Angles are specific information that helps players decide which team, horse, or individual athlete to back. 
ATS
The shortened version of "against the spread". ATS often refers to a "trend". So, as an example, the Steelers are 10-3 ATS, meaning the Steelers have won 10 times against the point spread and lost 3 times. 
B
Backdoor cover
A backdoor cover happens when the losing team scores enough towards the end of the game to win against the spread. 
Bad beat
A bad beat occurs when something unexpected happens late in a game that causes a player or players to lose their bet. 
Book
A shortened term meaning sportsbook.
Bookie or Bookmaker
A bookie or bookmaker refers to someone who runs a sportsbook. Pay per head agents are bookies or bookmakers.
There's also a good chance you know almost all of them.
Bust
When a player loses their bankroll, they bust.
Buck
In gambling parlance, a buck refers to a $100 bet. 
C
Chalk 
Chalk is another word to describe the favorite. The favored horse in a race is called the chalk. The favored boxer in a boxing match is also the chalk. The favored team in a football game can also be called the chalk. 
Circled game
A circled game, a game with a red box around it, means the event is subject to reduced lines. Circled games often happen when one of the participants suffers injuries to a key player.  
Closing line
The official line right before an event happens. The closing line in the Super Bowl is the final line before kickoff. 
Cover or Cover the spread
A team covers when they win by more than the point spread. Bookie betting agents can also use the term cover the spread. Cover also refers to underdogs that win against the spread. In the past, we used to say the underdog beat the spread.
D
Dime
If a bookmaker software agent accepts a bet for $1,000, their player is betting a dime on the game. 
Dog 
A shortened version of underdog. Dog players are those who love to back underdogs. 
Dollar
Any time a player bets $100 on a game, they're betting a dollar.
E
Even money
Bets that pay out 1-to-1 are even money bets.
Edge
An advantage a player, whether it's real or not, has on a specific bet. Teams can also have an edge. Often used in regards to stats or trends, as in, "The Buccaneers have a rushing edge" that leads to a betting edge. 
Exposure
How much a PPH bookie stands to lose on a game. A bookie website operator can cut exposure by using their layoff account.
Exotic
In horse racing, any bet that's not to win, place, or show. In sports, an exotic bet depends on something other than the game's outcome. An exotic bet would be on how many yards Tom Brady passes for against Dallas. 
F
Fixed
Players use the word fixed to describe an outcome that appears to have been determined by outside factors. For example, when Buster Douglas beat Mike Tyson in 1990 as a +4200 underdog, many thought promoters had fixed the match. 
Favorite
The chalk. The horse that should win. The team that should win straight up and cover the spread. 
Futures bet
A prop bet that often happens at the beginning of the season. If a player puts money on New Orleans to win the Super Bowl before the season starts, the player makes a futures bet on New Orleans. 
Fifty cents
A term that refers to $50. 
Figure
The money owed to a sportsbook. Or the money a pay per head sportsbook agent owes to a player. 
H
Handicapper
An online bookie who sets odds. The best players are also handicappers. Sports betting handicappers set their lines. If the team they like doesn't offer the odds they set, they won't make back the team. 
Hedging
Players hedge by making an opposite bet that, if it hits, will cut potential losses. Sports bets software agents hedge every time they use their layoff account to cut risk. 
High Roller
We call high rollers players that make a lot of high-dollar bets.
Hook
A hook refers to half a point in a spread line. So a 3.5 spread is three and a hook. 
J
Juice
Juice is the percentage price per head agents charge players to accept spread bets. 
L
Laying Points
Players who bet on the chalk in a spread line are said to be laying points.
Layoff
Online bookie software agents layoff risk by betting on the same team as their players. 
Lock
A lock is a team almost guaranteed to either win straight up or cover the spread.
Limit
Real bookie agents set limits on future bets. For example, an actual bookmaker will set a limit of $200 on Buffalo to win the Super Bowl, which means players can bet up to $200 on Buffalo to win the Super Bowl. 
M
Moneyline or Money Line
Moneyline or money line bets happen when players back a team to win straight up. Bookie websites often set limits on money line bets. 
Moving the line
Some players like to move the line by buying points. It's up to individual PPH services agents to decide if they want to allow players to move the line. 
N
Nickel
The term nickel in American bookie slang refers to $500. If a player bets $500 on the Eagles to cover the spread, the player is betting a nickel. 
No Action
At times, a sports betting agent may want to make a game no action. No action means canceling bets on the specific game and refunding wagers. 
O
Off the board
Bookmaker software agents may want to take a game off the board. The term refers to any game, horse, or other option that doesn't allow action. 
Over/Under 
An over/under play is a bet either over the total combined points or under the total combined points of two teams.
Overlay 
An overlay in bookie slang is a team that offers better odds than it should. Overlays can be underdogs or favorites. Sports bettors find overlays by handicapping games. 
P
Pick'em
A pick'em game is one where neither team offer favorite's odds. There is no point spread on pick'em games. 
Press
Some players like to press their bets, meaning they bet more than they usually do. Pressing also means making an extra bet in addition to an original wager.
Punter
A punter is a non-professional sports bettor. 
Push
The term push refers to a betting tie. 
R
Risk-free bet
Not often, but sometimes an agent may want to hand out a risk-free bet. Risk-free bets mean the player can wager with zero risk. 
Runline or run line
The term run line in US bookie slang refers to a baseball handicap. The team that is -1.5 on the run line must win by at least 2 runs for the bet to hit.
S
Sharp
A sharp is a professional handicapper. Sharps can pose a severe risk to a bookie's bottom line.  
Steam
The term steam refers to 
Spread
Spread is a shortened version of the term point spread. 
Straight up winner
A straight up winner gets the victory SU or on the money line.
T
Taking the points
When a player takes points, the player bets on an ATS underdog. If a player backs the Raiders at +6.5, the player takes the points.  
Teaser
A teaser play allows bettors to combine teams on a single bet and to change the point spreads. Not all per head agents offer or should offer teasers. 
Total or points total
A points total refers to the total combined points of two teams. Oddsmakers set a total points line that players refer to when making over/under total bets. 
Trends
Betting trends provide statistical information that helps players make present-day betting decisions. Teams don't always follow trends.
U
Underdog
The underdog is the team that should cover the spread, win the horse race, or win the game straight up. 
Underlay
An underlay is a favorite that offers no value on either their money line, spread line, or handicap. 
V
Value
Sharps make bets based on value. If a sharp player sees a team offering better odds than they should, they back the team.  
Vig or Vigorish
Vig or vigorish is another name for juice in bookie slang. The vig is the commission sports bettors pay bookies to bet on against the spread lines. 
Switch to PayPerHead and get up to 3 months cashback
Join soon, and you can get up to 3 months cashback. But cashback isn't the only reason to switch your sportsbook to PayPerHead.
We also offer the most profitable referral program in the industry. With our referral program, agents like you can make up to 17% per month of every referred friend's deposits for up to a year. 
If you're worried about switching, don't be. We'll take care of the transfer process for you. Give us a call at 1-800-605-4767 or sign-up and get started today.