New York Jets 2023 Preview. For the first time since 1992, the Jets played at the NFL Hall of Fame game on Aug 3rd. As expected, neither Aaron Rodgers, Deshaun Watson, nor other stars on both teams played. But we did see former starting quarterback Zach Wilson make the throw of the night. He hit Malik Taylor for 57 yards down the sideline, which turned into the opening field goal of the game.
New York's 2023 Season Schedule
The Jets lost to the Cleveland Browns 16 to 21.
New York will kick off their regular season against the rival Buffalo Bills. They have the sixth toughest strength of schedule based on opponents' 2022 win percentage (.545). Along with the Bills, they must take on Kansas City, Philadelphia, and the Dallas Cowboys.
Preseason games
Aug 12 at Carolina Panthers
Aug 19 vs. Tampa Bay Buccaneers
Aug 26 at New York Giants
Regular season
Week 1 vs. Buffalo Bills
Week 2 at Dallas Cowboys
Week 3 vs. New England Patriots
Week 4 vs. Kansas City Chiefs
Week 5 at Denver Broncos
Week 6 vs. Philadelphia Eagles
Week 7 BYE
Week 8 at New York Giants
Week 9 vs. Los Angeles Chargers
Week 10 at Las Vegas Raiders
Week 11 at Buffalo Bills
Week 12 vs. Miami Dolphins
Week 13 vs. Atlanta Falcons
Week 14 vs. Houston Texans
Week 15 at Miami Dolphins
Week 16 vs. Washington Commanders
Week 17 at Cleveland Browns
Week 18 at New England Patriots
The Aaron Rodgers Era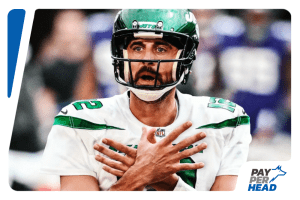 We all know that Rodgers is only a temporary fix, but the fans made it loud and clear in Week 16 of last season that they wouldn't take another year with Zach Wilson as the starter. They began booing Wilson on the fourth offensive play of the game, and the boos just got louder until the team finally benched him. The Jets hoped Wilson would be their star quarterback after picking him second overall in the 2021 Draft, but his potential has yet to be realized.
Last season Rodgers already showed signs of dropping down from his top form. The Packers wouldn't have let Rodgers go if he was still in his prime. The Jets can hope to get three good seasons out of him while he mentors Wilson to take his place. But Rodgers will need to be in top form this season if he hopes to get the Jets deep into the playoffs. His first goal will be to end the Jets' playoff drought. They haven't made the postseason since 2010, the longest active drought in the country's four major sports leagues.
Did the Jets Upgrade Their Offense?
The offense already had some spark, primarily due to the incredible 2022 draft on both sides of the ball. Besides having a fantastic name, cornerback Sauce Gardner won NFL Defensive Rookie of the Year. Wide receiver Garrett Wilson won NFL Offensive Rookie of the Year. Running back Breece Hall looked like he would get that honor before he tore his ACL in Week 7 against the Broncos. The Jets' ground game dropped dramatically once Hall was injured. He's still on the active/physically unable to perform list, but there's still hope he'll be ready to start the regular season.
They didn't have as good a Draft this year, but Rodgers brought some help from Green Bay, including offensive coordinator Nathaniel Hackett.
The Defense is Hoping to Stay on Top
Their defense in 2021 was one of the worst, as they finished last in points and yards allowed. That was coach Saleh's first season with the Jets. In 2022, they allowed the second fewest points per game (18.6), second fewest yards per play (4.8), and allowed the fourth fewest yards per game (311.1). Their biggest concern now is to keep the defense as intact as possible. Besides getting Sauce Gardner in 2022, the Jets did score Will McDonald IV in the first round this year. The pass rusher might see action right away.
Sports Betting Predictions for New York
The Jets have some pretty good odds of winning their division and getting into the playoffs. They even have nice odds of winning the Super Bowl, but somehow, their win total is only 9.5. That must be because of their difficult schedule. You might want to put your limits in for that bet.
There's a prop bet you should also keep your limits in for. Head coach Robert Saleh developed one of the top defenses in the country last season, but no one noticed because the offense struggled with quarterback issues. With Rodgers under center, there's a good chance the offense will catch up to the defense and earn Saleh AP Coach of the Year. He currently sits at +1600.
Also, put your limits in for them to make the playoffs and end their long drought.
AFC East Division Winner Odds
Buffalo Bills                     +120
New York Jets                  +250
Miami Dolphins               +290
New England Patriots     +800
New York Jets 2023 Season Odds
Win Total                           9.5
Win Division                    +250
Make Playoffs                  -135
Win AFC Conference       +1000
Win Super Bowl              +1600
Win the NFL with the Best Online Sportsbook Software
Acquiring Aaron Rodgers is a huge win for the Jets, and if you join PayPerHead, you could also score big. Our betting program is the leader of the pack when it comes to pay per head software.
Call 1-800-605-4767 today and get the whole NFL season starting with the preseason and ending with Super Bowl LVIII. You can start with our Standard or Prime Plans, but if you join with our Elite Plan, you get your first six weeks for free.
Pick the option that suits you the best, and then get access to our Premium Add-ons: Club Poker, Premium Props, Premium Casino, and TruLive Wagering. Get ready to make even more profits.