College Football Week 1 2023 Preview. Week 1 takes place over five consecutive days, but only four are with the top 25 teams. Most of the top teams get to play lopsided games on their home turf. Only five of them will be on the road, and only three games are expected to be close. Those include No. 21 North Carolina vs. South Carolina, No. 25 Iowa vs. Utah State, and No. 5 LSU vs. No. 8 Florida State (the only clash of top 25 teams in Week 1).
Week 1 Schedule of top 25 teams
Thursday, Aug. 31
Florida at No. 14 Utah (-6.5, 45.5)
Saturday, Sept. 2
East Carolina at No. 2 Michigan (-17.5, 56)
Arkansas State at No. 20 Oklahoma (-35, 58)
Colorado at No. 17 TCU (-20.5, 60.5)
No. 12 Tennessee (-28, 57.5) vs. Virginia
No. 3 Ohio State (-30, 60) at Indiana
Boise State at No. 10 Washington (-14.5, 58.5)
South Carolina vs. No. 21 North Carolina (-2.5, 64.5)
West Virginia at No. 7 Penn State (-20.5, 50.5)
Utah State at No. 25 Iowa (-25.5)
Mercer at No. 22 Ole Miss
Portland State at No. 15 Oregon
Rice at No. 11 Texas (-35)
Tennessee State at No. 13 Notre Dame
Buffalo at No. 19 Wisconsin (-27.5)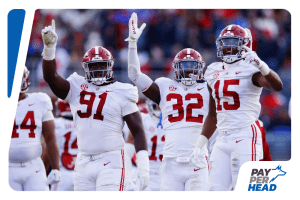 UT Martin at No. 1 Georgia
Nevada at No. 6 USC (-38.5)
SE Missouri State at No. 16 Kansas State
New Mexico at No. 23 Texas A&M (-38)
Middle Tennessee at No. 4 Alabama (-39.5)
South Alabama at No. 24 Tulane (-6.5)
Sunday, Sept. 3
No. 18 Oregon State (-16.5, 54.5) at San Jose State
No. 8 Florida State vs. No. 5 LSU (-2.5, 58)
Monday, Sept. 4
No. 9 Clemson (-12.5, 55.5) at Duke
The Battle of the Carolinas
One of the few close matchups for a ranked team in Week 1 will be the No. 21 North Carolina Tar Heels taking on the South Carolina Gamecocks. The Gamecocks could knock the Tar Heels out of ranking if they pull off an upset. This game has the potential of being the best brawl of the weekend.
Drake Maye is the quarterback for North Carolina. As a redshirt freshman, he passed for 4,321 yards and 38 touchdowns last year. He's already a top prospect for the 2024 NFL draft and leads one of the top offenses in the country. He's joined by new offensive coordinator Chip Lindsey.
Their weak point is defense. Last season, they only kept one opponent from scoring at least 20 points.
The Gamecocks also have a standout quarterback in Spencer Rattler. He might be able to keep up with Maye, but his offensive line is questionable in protecting him. Their defense only has four starters returning, so they may be as unreliable as North Carolina's.
This should be an offensive battle, with the Tar Heels being the favorites by 2.5 points. The team whose defense can step up may just win the game.
Two Ranked Teams Facing Off to Change Their Standings
Two top-ten teams in a Week 1 matchup is something not to be missed. The No. 5 LSU Tigers take on the No. 8 Florida State Seminoles on Sunday.
LSU is strong on their ground game and will probably focus on that to win. Their quarterback, Jayden Daniels, is already part of the Heisman Trophy discussion. He'll need a No. 1 wide receiver to replace Kayshon Boutte if he also wants to make gains in the air. The Tiger defense will miss their star defensive lineman, Maason Smith, who is suspended for this game.
Florida State's quarterback Jordan Travis could use that suspension to his advantage, especially with 6′ 7″ receiver Johnny Wilson and Michigan State transfer Keon Coleman as part of his weapons.
LSU is favored by 2.5 points, but Florida State may win if they can capitalize on Smith leaving a hole in the defense.
Florida is Gaining on the Utes
Utah was an easy favorite in this Thursday's game with an opening line of -9. That has since changed to -6.5. Their star quarterback, Cameron Rising, is recovering from a torn ACL and is expected to be ready for the opening game, but the change in odds could indicate otherwise.
Most of their defense is returning, and tight end Brant Kuithe is back after a season-ending injury early last year.
Florida will start quarterback Graham Mertz, who was a Wisconsin transfer. He is replacing Anthony Richardson.
Look to see if Rising starts the game.
Turn to the Best Pay Per Head Software for All of the College Football Games
If you have a pay per head sportsbook and know you could be making more money, turn to PayPerHead.com. Our sports bets software has been the leader of the pack for over 20 years.
Now, we offer three different plans so that you can pick the one that works best for you. Choose between Standard, Prime, or Elite and watch your profits grow. And if you choose Elite, we'll even give you your first six weeks free.
Call 1-800-605-4767 today.