Carolina Panthers 2023 Preview. In Week 1, the Panthers take on the Falcons, who are considered a bit better in the division. Carolina will need to win this one. Otherwise, they could be 1-5 before their bye week. The schedule gets easier after that, and hopefully, the new quarterback and coaches will find their groove by then.
They almost beat the Buccaneers in Week 17 last year, which would have placed them in the running for a playoff spot. This year, they meet again in Week 18. Perhaps that will also be a pivotal game with a better ending.
Carolina's 2023 Season Schedule
Preseason games
Saturday, Aug 12 vs. New York Jets (L: 27-0)
Friday, Aug 18, at New York Giants
Friday, Aug 25, vs. Detroit Lions
Regular season
Week 1 at Atlanta Falcons
Week 2 vs. New Orleans Saints
Week 3 at Seattle Seahawks
Week 4 vs. Minnesota Vikings
Week 5 at Detroit Lions
Week 6 at Miami Dolphins
Week 7 BYE
Week 8 vs. Houston Texans
Week 9 vs. Indianapolis Colts
Week 10 at Chicago Bears
Week 11 vs. Dallas Cowboys
Week 12 at Tennessee Titans
Week 13 at Tampa Bay Buccaneers
Week 14 at New Orleans Saints
Week 15 vs. Atlanta Falcons
Week 16 vs. Green Bay Packers
Week 17 at Jacksonville Jaguars
Week 18 vs. Tampa Bay Buccaneers
Revolving Door for the Quarterback
The Panthers have gone through at least six quarterbacks since David Tepper took over as owner. Most lasted about one year, give or take. Only Cam Newton had a decent season in 2018 when he passed for 3,395 yards. That's the high point that the team never reached after.
This is why they spent considerable resources looking at the QB draft picks and then negotiating heavily to get the No. 1 draft pick from the Bears. They weren't taking chances of not getting the quarterback they wanted. Chicago got the ninth overall pick and a second-round choice. They also got the first and second-round picks in 2024, a second-round selection in 2025, and Carolina's No. 1 receiver, D.J. Moore.
Many were surprised that the Panthers picked Bryce Young No. 1 overall because of his small stature, but he is already impressing the coaches and players in the offseason. C.J. Stroud was chosen No. 2, and Anthony Richardson No. 4. I'm sure the Panthers will be watching those other QBs' progression, especially if they face each other in Weeks 8 & 9.
New Head Coach and Defensive Coordinator
After five consecutive losing seasons, the Panthers hired a new head coach, Frank Reich. He was the head coach of the Colts from 2018 before being fired on November 7, 2022. He had similar quarterback issues in Indianapolis after Andrew Luck unexpectedly retired just before the 2019 season.
The defense only had 35 sacks and caught just ten interceptions last season. They were below average in all meaningful metrics. Because of their poor performance, the Panthers hired a new defensive coordinator, Ejiro Evero. He had a great 2022 season with the Broncos but ended up here and will change the defense from a 4-3 base to 3-4. Hopefully, the players will adjust quickly.
Evero is considered a major steal and should be able to turn the defense around quickly. They already have talent, such as defensive tackle Derrick Brown, cornerback Jaycee Horn, edge rusher Brian Burns (who is switching to outside linebacker), and linebacker Shaq Thompson.
Corner Backs and Receivers Need to Improve
Cornerback No. 1 Jaycee Horn is impressive but has been dealing with injuries these past two seasons. He missed mandatory minicamp because of an ankle injury. Cornerback No. 2 Donte Jackson is recovering from a torn Achilles. Jeremy Chinn might get some play but also takes on linebacker and safety duties.
Carolina's Sports Betting Predictions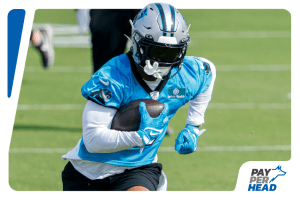 Last year, the Panthers were 5-4 at home, but they only won two games on the road. When they were the favorites, they were 0-4. Amazingly, as underdogs, they went 6-6. They did well against their division rivals, 4-2. If the combination of a new head coach, defensive coordinator, and quarterback pays off, they should continue to do well against NFC South teams and hopefully improve their stat in games where they are the favorites.
Bryce Young impresses the coaches with how quickly he's incorporating the concepts, and he's a natural at taking command of his offensive unit. His prop bet for Offensive Rookie of the Year could see much attention. Keep your limits in.
NFC South Division Winner Odds
New Orleans Saints         +130
Atlanta Falcons                +230
Carolina Panthers            +400
Tampa Bay Buccaneers   +800
Best Prop Bet
Bryce Young to win Offensive Rookie of the Year       +450
Carolina Panthers 2023 Season Odds
Win Total                           7.5
Win Division                    +382
Make Playoffs                  +182
Win NFC                          +4000
Win Super Bowl              +8000
Choose the Sports Betting Software That'll Make You the Most Money
The Panthers are going all in with their new quarterback in hopes that he can turn them into a winning team once again. It's a reasonable risk but not nearly as sure a bet as PayPerHead bookmaker software. We have the proven tools and features to grow your sportsbook and make you more money.
Call 1-800-605-4767 today and choose the best plan between Standard, Prime, or Elite. Choose Elite, and we'll give you six weeks free.
Pick the betting program that gives you premium add-ons, our very own agent payment solution, and access to a layoff account, no matter which plan you choose. We're here to make life easy for you and your players. Call today and become a dominant leader in the sports betting industry.