NFL Wild Card Preview. NFL playoff games are here. Although a team like the Kansas City Chiefs won't participate in the first games, we expect a crazy Wild Card Weekend. The teams, matchups, and schedules are all set. However, some of the starting quarterbacks are still up in the air. That'll keep your bettors speculating right up until kickoff.
 Before we get into Wild Card Weekend odds and news, we must mention the Green Bay Packers. All Aaron Rodgers had to do was get past the Lions to be part of the playoffs. And I feel bad for the Lions, who pulled off that win to move ahead of the Packers in the standings but still did not make the playoffs. 
The Lions look forward to a new NFL season. The Green Bay Packers are left to wonder what might have happened if they had a much better regular season.
Expect the Packers to look for wide receiver help in free agency. On to super Wild Card Weekend where winners move on to next weekend's divisional round
Lots of First-Time Playoff Quarterbacks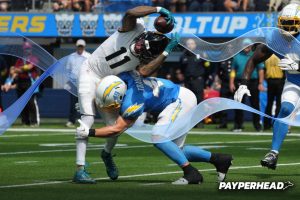 As many as seven quarterbacks might get their first career playoff start this weekend. Since 2002, first-time quarterbacks in the wild-card round are 12-35. Last year they were 1-4, and the only reason there was a win was that two first-timers were playing against each other. 
First-time quarterbacks that should start this weekend:
Brock Purdy – 49ers

Geno Smith – Seahawks

Trevor Lawrence – Jaguars

Justin Hebert – Chargers

Daniel Jones – Giants
The Baltimore Ravens might be added to that list if Lamar Jackson, the Ravens' regular season starter, doesn't suit up against Cincinnati. He's coming off a knee injury and hasn't played or practiced for weeks. 
The Dolphins are juggling three quarterbacks. Their number one choice is Tagovailoa, but head coach Mike McDaniel ruled him out. IHe's never played in the playoffs before. Neither has rookie Skylar Thompson, who may make his second straight start if Teddy Bridgewater's injured finger doesn't recover in time.
Seattle Seahawks at San Francisco 49ers (-10)
Seattle's quarterback Geno Smith has created some great offense with wide receivers DK Metcalf and Tyler Lockett. But he has ten turnovers in his last eight games, which he'll have to overcome if they want to beat the spread. Rushing the ball is their main strength. They've gone 9-3 when rushing more than 75 yards.
Smith will be going against San Fran's rookie QB Brock Purdy who is having an outstanding season. He's shown extraordinary talent but is still a rookie entering his first playoff game. You should open this one up for in-game betting to see if Purdy's play changes as he gets comfortable.
Los Angeles Chargers (-1) at Jacksonville Jaguars
This betting line has already moved from -2.5. The more NFL handicappers look at this matchup, the more they wonder if the Jaguars might have the upper hand. Jacksonville crushed Los Angeles in Week 3 on the road (38-10). That was a long time ago, but Jacksonville has won five in a row coming into this contest, and injuries have plagued the Chargers going into the postseason. Their defense has given up an average of 5.4 yards per carry this year which is the worst ground game in the NFL since 1959. The Jags better run the ball! 
Hopefully, with these two teams having almost even odds, the action should also be even, which means you can make a lot of juice.
Miami Dolphins at Buffalo Bills (-10.5)
Keep watch on who will be named starting quarterback for the Dolphins. It can make a big difference on the betting line. Your players may try to jump on a bet before the line moves. If the Dolphins want any chance of winning the game or beating the spread, they'll have to run the ball.
Most of your players will watch this game to see Josh Allen and the Buffalo Bills start their Super Bowl run. Open it up to in-game betting to keep them interested.
New York Giants at Minnesota Vikings (-3)
I'm surprised that the Vikings are only 3 point favorites. They have a 13-4 record against the Giants' 9-7-1. And New York will be starting Quarterback Daniel Jones in his first playoff game. Minnesota will have a home-field advantage and are the only team to beat the Bills in Buffalo.
If you see much action moving to the Vikings' side, consider moving this line.
Baltimore Ravens at Cincinnati Bengals (-6.5)
The Ravens have a solid defense that should keep the Bengals' from scoring less than they usually do. But Baltimore's offense is a little thin, even on their best days. Quarterback Lamar Jackson hasn't been in the lineup for a month with a knee injury. If he doesn't start, watch for some line movement and a flurry of fast bets once we find out who is starting. 
The Bengals have only been able to get more than 30 points once in the last six games, but QB Joe Burrow is always reliable. As long as he's protected, it will be tough to shut them down.
Dallas Cowboys (-3) at Tampa Bay Buccaneers
The Cowboys (12-5) might not have had a consistent year, but they created magic when the team showed up. The only thing that needs work is their ground game and Dak Prescott's league-leading 15 interceptions in 12 games. 
The Dallas Cowboys should have no problem handling Tampa Bay. Tom Brady had his first losing year ever. Will that discourage or motivate him? When the pressure's on, Brady can surprise. 
Get the best start to the National Football League postseason and Super Bowl by transferring your players to PayPerHead. With our current promotion, you get all NFL playoff action at only $3 per head. That's a savings of $8 per head on our regular price per head fees. 
Call 1-800-605-4767 now before the kickoff of the first game this Saturday. This promotion goes till April 16th, saving you a ton of money if you act now.