Sports betting and bookmaking have become more mainstream. But people continue to ask, what is a bookie? Keep reading if you want to know what an online sports betting agent does. 
Soon after the U.S. Supreme Court struck down the law that prevented states other than Nevada from allowing online sports betting, New Jersey, Delaware, and other states decided to open their doors to the gambling world. 
Organizations like Churchill Downs, the racetrack company that runs the annual Kentucky Derby, and two fantasy sports establishments, DraftKings and FanDuel, wasted no time adding sports betting and offering free bets.
So far, those companies that offer free bets haven't made out like bandits like their investors believed they would. Free bets don't lead to loyalty or more sports betting.   
Not only that, but running an online casino and making sports betting profitable isn't as easy as turning a switch. It's tough to make money running a company that facilitates gambling.
So when Churchill Downs decided to ditch their online gambling sports betting platforms save for their racebook, a flare went up regarding sports betting and how it could or could not become a corporate-run, money making, growing industry.
Since the dawn of sports, online gamblers have placed wagers on sporting betting activities. Misconceptions regarding sports betting are a primary reason it's taken so long for the U.S. to legalize it.
Shady characters in smoke-filled rooms don't run the sportsbook industry. Real sports betting requires a level of customer service that doesn't exist in large corporations.
Customer service is the main reason Las Vegas continues to run the most successful sportsbooks and why non-Nevada players continue to wager through pay per head agents.
What is a bookie? No, really, what?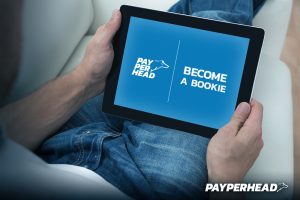 The question doesn't seem difficult to answer. Anybody who has watched Martin Scorsese's movie Casino knows what a bookie is. 
Abe Rothstein is a bookie. He places bets for mob customers. The mob wants Abe to run a Vegas sportsbook and casino.
So he does, and it's a disaster. Scorcese's movie is about how the mob lost the casino business.
The image of organized crime mobsters breaking legs and demanding payment due to sports betting debts is fiction. Since 1997, we have offered online bookie software sports betting services for bookmakers.
PPH sportsbook agents provide platforms for placing bets. There are numerous platforms, which we will get into in a few moments.
So if you ask, "What is a bookie?" The answer is a bookie is someone who provides a service. The service is a way for sports handicappers, online casino bettors, and horseplayers to make bets online.
Okay. So what is a per head bookie?
A bookmaker that uses sportsbook software is a PPH bookie. Pay-per-head means the bookmaker pays for each customer.
Bookies pay after players play. So if a customer plays that week, the bookmaker must pay for the software. If not, the bookmaker doesn't pay.   
Paying us only when players pay is a way bookies keep costs low. Another way is through software.
We use proprietary software that allows you, the agent, to cut risk and make more money. See below for the tools available to you once you sign up with PayPerHead.
Layoff Account
PPH sports betting bookies use the layoff account to cut exposure on risky bets. As an example, if a player bets $1,000 on a game, a bookie could bet the same amount on the game in the layoff account.
If the bet wins, the agent uses the winnings from the layoff account to pay the player. If the bet loses, the player pays the agents, and the agent pays off the debt in the layoff account. 
Limit Tools
Agents can set max limits on specific bookie website options. If a player wants to bet on an NFL moneyline that's +600 on the underdog, a bookie agent can limit how much the player can wager.
The most important limits to set are on your horse betting platform. Favorites in thoroughbred races often offer odds above even money. So even a $100 bet could end up costing an agent thousands. 
Agent Payments 
The most critical bookie software disruptor is a way for players to deposit into their accounts and for agents to collect from player accounts.
The Agent Payment Solution prevents sports gambling players from running up gambling debts. In the past, bookmakers funded player accounts. 
If a player went bust, the agent had to hunt down the player for payment. With software like the APS, players fund their accounts before playing. 
Or bookmakers go into the player's account to collect. The APS also benefits players because agents pay players as soon as options grade. 
Sports Betting Platforms
As a PayPerHead agent, you have access to the following platforms.
80+ League Sportsbook
Agents can accept bets on NFL, NBA, MLB, and NHL sports games. But that's not all.
The 80+ league sportsbook allows players to bet on options like NASCAR, PGA, UFC, Bellator, boxing, and even ping-pong and darts.
Players can also wager on future sporting events like the NBA Finals, the Kentucky Derby, and the Super Bowl through the sportsbook.    
Standard Live Betting
Live betting has become a huge moneymaker. Your players can wager on games while they happen. 
Standard Casino 
The standard casino provides twenty-three popular slot machines and table games. Like all platforms, the classic casino is mobile capable. 
Online Racebook
You decide to offer racebook betting. You can turn your racebook on for players. 
Be careful, though. Most horseplayers look to make big scores playing with unsuspecting bookies. So set limits on all horse betting options.  
Two Live Dealer
You have two live dealer platforms. Why would you want a couple of live dealer platforms?
In the real world, blackjack, roulette, and baccarat players get chummy with dealers. You can mix and match and prevent your players from developing relationships with specific dealers. 
Add-On Platforms
You can add on the following platforms, which you should because doing so increases action by 15% or more. 
Premium Props
Offer prop action on NBA, NFL, and NHL star performances. Also, offer quarter and halftime lines and obscure future prop bets. 
Live+
Live+ is different from Standard Live in two ways. First, your players can access a game tracker with valuable information.
Second, Live+ offers video streams. Armed with video streams and a game tracker, your players can make more educated bets.  
Premium Casino
The Premium Casino provides BetSoft 3D slot machine games. Players can wager on the most updated 3D games. 
As BetSoft releases the games, they go to the Premium Casino. 
ClubPoker
For June 2022, we're offering ClubPoker for free. In our latest blog, you can read all about poker and why we believe it's a massive moneymaker. 
Sign-up with PayPerHead and get a free bookie site consultation
As the leader in sportsbook betting software, we take pride when our customers make money, which is why not only is ClubPoker free for the entire month of June, but when you sign-up, we also provide a bookie consultation.
You will learn how our software can help you make more money during your consultation. Our experts answer your questions based on your sportsbook. 
The consultation is a good enough reason to join. Another reason? You can use our proprietary software free for two weeks if you join soon. Call 1-800-605-4767 and get started today.