When you think about entering the sports betting industry, one of the things you need to take into consideration is the technology that runs your new and developing business. 
What Your New Sports Betting Software Should Offer
The first thing you think about when creating your new sports betting business is the excitement that happens when those bets start coming in. You may have been watching films like Uncut Gems – and looked in wonder at the parlays made by Adam Sandler's character. The thrill of betting draws people into the industry all the time – and it's that same thrill that draws you into the betting business.
But, if you want to start making money from the industry, then you need to be on the internet. If you want to start an online bookmaking business, then you will need to take advantage of the best betting shop software available on the market. The very best thing about the internet is that it allows you to compete with all the biggest and best bookmakers out there. However, it also means that there will be a lot of competitors out there. That's why you need the very best sports betting shop software supporting your new sportsbook so that you can start and grow your business. Here at PayPerHead, we offer you the very best platform – available for you today.
So Many Software Platforms Available
There are now so many online businesses available right now, but why? Well, that's simply because the internet offers people unlimited ability to reach audiences not just across the country, but from all over the world. PayPerHead.com is one of a variety of sports betting platforms that you can choose to use for your new software business. So why choose ours?
What You Should Look for in Betting Shop Software
We will look into the issue in more specifics soon, but your first thoughts should be about the number of options available. You want to be able to provide your customers and sports betting clientele with as many choices as all the major betting sites can offer theirs. It may be that you need to offer smaller betting limits, to limit how much cash you might have to pay out to winning bets, but you still need to offer your bettors the same amount of choice in terms of sports, sports betting market options, props bets and other options. If you don't offer your customers a lot of choices, the bettors will head over to the other sites that do.
The Best User Features to Offer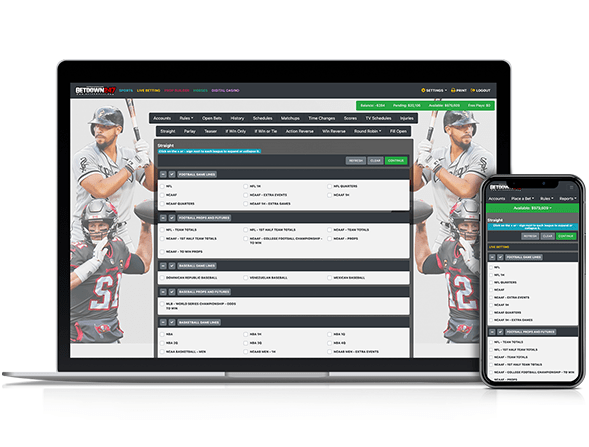 When you are looking to choose your preferred betting shop software, you want to make sure you offer your customers all the bells and whistles. You want to have the flexibility to offer betting during the game. This means that you will need to set up certain props that your punters can follow.
If you have ever done any sports betting yourself, then you know that choosing the best bet isn't always easy. Of course, winning is the best part of making a bet, but it's also very much about the adrenaline that comes with making the bet. When the bet is done and the suspense is over, you need to look for the next big thrill.
That means that you will want to offer your customers lots of sports betting options and lots of payment gateways. The very best platforms offer an intuitive dashboard that anyone and everyone can follow, whether it's you, the bookie on the management side, or your customer, on the betting side. The dashboard should be easy to use. If they seem confusing or complicated, then your customers will look for a competitor that offers an easier betting experience. It should be very simple for your bettors to make their bets, put money into their account and, most importantly, get their winnings out when their bets come in.
If your website doesn't limit your clients, then they can place their bets from anywhere they want – and you can manage your site from anywhere you are. That means that you don't need to be sitting in an office to do the work and betting shop owners don't even need a betting shop anymore! You can be sitting in the garden or sitting by a pool and check out what action is coming in – you can adjust the lines if needed and then count the winnings. You can add sports, add props and alter the betting limits for your customers – whatever you need to do.
Your clients also get that same flexibility. All they need to do is get out their smartphones and check out your latest odds and offers, make the bet and then add funds to their account – and then, in necessary, withdraw the winnings. If you have top quality betting shop gambling software applications at your disposal, you will be able to compete with the biggest and best sportsbooks across the US and the world.
You also need to think about having the right data that you require to properly run your sports betting business. Have you set odds that didn't work out well? There are lots of new bookies that think they know better than the big bookies – and so they offer odds that are at a variance. They then wind up with an overloaded bet with lots of money on one side of the bet… and end up losing big time.
As you progress your business, you will understand that the big sports betting sites employ experts that spend hours upon hours researching the sports games and events so that they set up the lines correctly. Sometimes you might see mistakes that punters can take advantage of, but usually, their expertise pays off. – and that's why they keep raking in the money.
Other data that often comes in handy is horse racing data if you are looking to offer horse racing gambling as a betting option. If so, you will be required to know about the horses and about the odds. But, you won't have time to do all of the research on your own. So, it's a good idea to align yourself with online sportsbook software that includes access to all the data and information you need to know.
It's All About Value
We also know that price will factor into it as well. Here at PayPerHead.com, we offer sports betting services that offer bookie agents real value for money. The money you put into this software is an investment – and an important one. You want to make sure you are getting the best sports betting software. It will allow you to join lots of other bookies who have made that same investment and seen it pay off – again and again.
If you watch shows such as Shark Tank, you will see different entrepreneurs come into the room and pitch their business ideas – offering a stake in their business for a certain amount of money. The reason people offer this stake to the investor is because they know that they can bring real value to the business. The money that you invest in Pay Per Head services and software simply reflects the added value that we can bring to your new sportsbook business. We offer a platform that offers incredible value for money so that you can feel confident your business will thrive.