For online bookie agents, the summer can be a slow period. But July, the month after the NBA Finals and NHL Stanley Cup and before the NFL preseason kicks off in August, mustn't be a time to rest on the laurels. Check out the sports summer schedule and betting opportunities agents can provide their players.
For pay per head agents, July can be a scary thirty-one days. Action drops big time in July because most players take the month off. 
Not many players like to bet on baseball. Almost as important? MLB options provide a significant agent disadvantage. 
Baseball betting experts win more than they lose, which is why some bookmaker software agents don't offer MLB options. The ones that do stick to a set of MLB sportsbook rules.
But baseball isn't the only sport agents can offer. Almost as important? Your sportsbook software provides much more than sports.
There are plenty of gambling options that players can access through your bookie website. Check out the top options you can promote while we wait for the 2022 NCAAF and NFL seasons.
Summer Sports: Auto Racing, Fight Sports, and AUDL
 A price per head sports agent can offer wagering options on both NASCAR and Formula 1 races. Regarding combat sports, players can find UFC and Bellator and most boxing bets on your free bookie software sportsbook platform. 
Agents can offer various sports like cricket, ping-pong, and the American Disc League. Check out a complete list of sports players call bookie agents about before the NFL preseason. 
NASCAR
America's top auto-racing league's popularity has waned some. Die-hard fans remain as fervent about their favorite sport as football and basketball fans. 
This season, NASCAR has produced exciting finish after exciting finish. Make sure your players know they can place bets on NASCAR races.
Don't forget 
Formula 1
Red Bull's Max Verstappen won the 2021 F1 Drivers Championship. This season, Charles Leclerc and Ferrari are making a run for the constructors and drivers titles.
Mercedes and drivers George Russell and Lewis Hamilton have fallen to third in the Formula 1 standings. Like NASCAR, most races happen on a Sunday. 
Ultimate Fighting Championships
UFC is the most successful mixed martial arts promotional company in the world. See below for UFC's events from July 2 through August 20.
UFC 276 Adesanya vs. Cannonier – Saturday, July 2

UFC Fight Night – Dos Anjos vs. Fiziev – Saturday, July 9

UFC Fight Night – Ortega vs. Rodriguez – Saturday, July 16

UFC Fight Night – Blaydes vs. Aspinall – Saturday, July 23

UFC 277 – Pena vs. Nunes – Saturday, July 30

UFC Fight Night – Santos vs. Hill – Saturday, August 6

UFC Fight Night – Vera vs. Cruz – Saturday, August 13

UFC 278 – Usman vs. Edwards – Saturday, August 20
Bellator
Like UFC, Bellator has its fans. The world's second most successful mixed martial arts outfit doesn't provide as many events as Ultimate Fighting Championships.
But Bellator fans get to know the fighters and are die-hards. So make sure your fight sports handicappers realize they can access Bellator sports betting software options on your site. 
Boxing
Mixed martial arts bettors love boxing almost as much as MMA. If players bet on one, they're likely to bet on another. See below for the top boxing matches happening in July and August. 
Ryan Garcia vs. Javier Fortuna – July 16

Danny Garcia vs. Jose Benavidez – July 30

Jake Paul vs. Tommy Fury – August 6

Teofimo Lopez vs. Pedro Campa – August 13

Oleksander Usyk vs. Anthony Joshua – August 20
American Ultimate Disc League
Players can bet on cricket, ping-pong, and other sports. Tell your players to check out your sportsbook's betting program for options on those miscellaneous sports.
One of the fastest-growing sports in the United States is the American Ultimate Disc League. Players might like to bet on AUDL contests because the game is comparable to football, except there is no hitting, no pads, and the pace of games is much faster than on the gridiron.
No doubt, the AUDL's popularity will continue. Who knows? The American Disc League could end up the sport that bridges your players from the end of the NHL and NBA seasons to the start of the NCAAF and NFL seasons.
PGA Golf & Tennis Summer Sports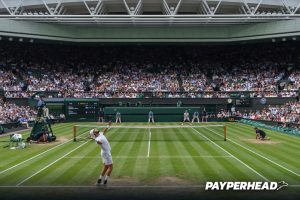 The PGA runs a tournament every week. One more major happens this year, The Open Championship at St. Andrews, Scotland, from July 14 through July 17
The Tour Championship, the final golf event of the PGA Season, happens from August 25 – August 28.
The ATP and WTA run tournaments, sometimes multiple tournaments, every week. Wimbledon started this week and goes until July 11. The final major of the year, the U.S. Open, happens from August 22 through September 12.  
Real Bookie Racebook Betting: Saratoga & Del Mar Meets
Opening your horse racing betting platform to players is risky. If you set max betting limits and max payout limits, though, you can make money on summer racing at both Saratoga and Del Mar.
Saratoga is located in Saratoga Springs, New York. Del Mar is located in Del Mar, CA, a few miles from San Diego. 
Saratoga Summer Meet – Thursday, July 14 – Monday, Sep. 5

Del Mar Summer Meet – Friday, July 22 – Sunday, Sep. 11
Casino & Poker
Image Suggestion: On Hand 
ClubPoker is open. Your poker platform generates tables once a player enters the room. 
Also, remember that poker is risk-free. You make money no matter who wins the pot. Promote poker for sure because there's no way you can lose money. 
In addition to poker, the Premium Casino provides players with 3D games. You also can offer two live dealer platforms. 
Games are similar on each live dealer platform. You can prevent dealers from getting close to players with two, though. 
Two weeks of free bookie software and half of ClubPoker rake until September
We're continuing to offer a two weeks free promotion. Sign-up, and you can use our software free for two weeks. 
Also, if you add ClubPoker, you pay half the rake fee for the next three months. In addition, you can make online payments and collect online via the Agent Payment Solution. 
We're also providing free bookmaking site consultations. There's no obligation. Call 1-800-605-4767 for your free consultation or join now and get two weeks free.