Starting the season after winning a championship is always a great confidence booster. Relying on it to get you through the next season is a recipe for disaster. The Milwaukee Bucks have the confidence that only winning the NBA championship can give, but they're putting that aside and looking at this as a whole new NBA season for 2021-2022. 
The Odds are Against Them
Other teams have gotten stronger over the off-season, making trades that can improve their benches. Maybe that's why betting sites suggest the Brooklyn Nets are the favorites to win in 2022, followed by the Los Angeles Lakers and then the Milwaukee Bucks. 
The Nets have Kevin Durant and James Harden to lead their team. And they have great support on the bench to back them up.
Right now, most pay per head agents have watched pros dump money on the Nets to win it all. Whether the trend continues remains to be seen.
For a more in-depth preview of the Nets, check out our 2021-2022 NBA Betting Preview.  
Minimum Roster Changes
The Bucks did their best to stay intact, making a minimum number of changes to their lineup. They lost P.J. Tucker and Bryn Forbes and acquired several new players, including Grayson Allen, George Hill, Rodney Hood, and Semi Ojeleye. 
Their management seems to think that it's better to stick with what works rather than keep trying to improve. Juggling players can have a positive effect as you discover new partnerships and great chemistry, but it can also cause problems. 
NBA 2021-2022 Season Starting Injuries
The Bucks started the season just as they finished, winning. But injuries have been piling up, benching some of their top players. They have yet to play a game this season at full strength. 
For example, Jrue Holiday's ankle has kept him out of practices and games for this season so far, but he's expected to resume soon. 
Management won't get frazzled by a few injuries at this stage of the game. This just gives new players a chance for more experience. 
Other players that are out due to injury are Brook Lopez (back) and Donte DiVincenzo (ankle). Khris Middleton is out of the lineup because he tested positive for Covid. 
Unpredictable Covid
Covid could be the monkey wrench that will make it difficult for odds-makers to predict who will get the NBA title in 2021-2022. It seems to be just as unpredictable as most injuries, but so far, the recovery time stays at ten days making downtime a little more predictable.
A Core Group of Players
Management has kept their core team relatively intact to ensure a bond that translates into winning more games. Four of their starters are returning after last year's championship. They made the playoffs the previous five years and have won the most regular-season games in the NBA over the past three years (162). They've obviously been tweaking their winning formula. 
Are they done now? Do they plan on starting over and building a new team? It doesn't look that way. They did lose a few key players but, for the most part, held onto their core group of guys.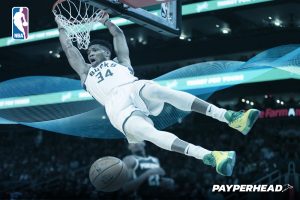 Giannis the Greek
Heading up that essential group of players is Giannis Antetokounmpo. The 6'11" power forward has been with the club for his entire 6 season career. At 26, he has a lot of seasons ahead of him, and he just keeps getting better. 
So far this season, he has led in points, assists, and rebounds each game. Just think what he can do once his knee is no longer a concern. 
Just like a lot of competitive people, once they win, they work towards the next goal. They don't just sit back and enjoy themselves. They keep going for bigger goals and bigger dreams.
Milwaukee Veterans
Khris Middleton has been with the Milwaukee Bucks even longer than Giannis – 9 seasons. Donte DiVincenzo, shooting guard, has been with the Bucks his entire 3 season career. Pat Connaughton, a veteran shooting guard, has played for Milwaukee for the last four seasons. Brook Lopez, veteran center, has been part of the Bucka' organization for four seasons as well. 
The first few games showed how strong a team they still are. If they can get all their players healthy again, they will be a formidable group to take on during the season and into the playoffs. 
It's hard to bet against a team that not only knows how to win but has played together for several years and has some positive history as a core. It's been said that a group of average players that work as a  team can beat a group of superstars that don't. Milwaukee's management seems to be counting on that idea. 
Other teams that odds-makers see as competition for the top prize are the Phoenix Suns, Golden State Warriors, Los Angeles Clippers, and Philadelphia 76ers.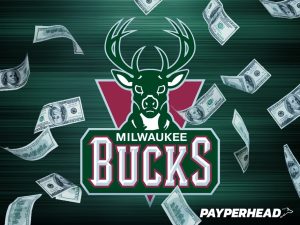 NBA 2021-2022 Championship Odds
A lot can happen during the NBA season before a single playoff game. Bookmaker software agents predict the Bucks will win the 2021-2022 NBA Championship again for a second straight season. It wasn't that long ago that the Golden State Warriors won the Championship two years in a row in 2017 and 2018. They were in the NBA finals five years in a row, winning three of those, the third time in 2015.
Do the Bucks have the winning formula to do that? Their injuries are certainly giving them trouble at the start of the season, but they're still able to pull off some wins. 
As long as management and the coaching staff have their focus on the marathon and not the sprint, they have a chance. It took them five consecutive shots in the playoffs before they took the prize. There's no reason to stop now. 
Early in the season, Milwaukee is expected to go far this season, but their first goal should be for the top seed.
Bet to Win
Check out PayPerHead for the best sportsbook software.  Agents can offer all 2021-2022 NBA betting options. 
With over 80 sports leagues to choose from, your players will never miss out on their favorite options, including betting on things like cricket, darts, and top esports. 
Sign-up for our Super Bowl promo. Doing so means you pay $3 per head from the moment you activate your account until Sunday, February 13, 2022.