Although most pay per head bookies have turned their attention to the upcoming March Madness Tournament, as they should, some price per head agents have already seen an uptick in NASCAR betting revenue. NASCAR betting is on the rise. Check out everything you must know about the Cup Series Championship, as well as why you should promote your sportsbook's ability to offer NASCAR betting online.
After football season, pay per head sportsbook agents often struggle to find options for their players. During football season, sports bettors call bookie agents looking to place bets for updated lines and how they can play parlays.
But after football season, things die down big time. Then after the NCAA Men's College Basketball Tournament, action further subsides. 
How can agents who offer free bookie software ensure their players remain engaged? The main thing to do is provide free betting software on options like NASCAR. 
The Daytona 500 began yet another fantastic season. NASCAR odds land every week, which means the stock car auto racing league is one to promote to your players.  
Keep reading to find out the top races, drivers, and bookie website options to promote in one of the United States' most popular sports.   
2022 NASCAR Cup Series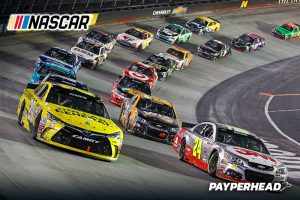 Formerly the Sprint Cup Series Championship, the NASCAR Cup Series comprises all of the races during NASCAR's season. The races include ten events during the NASCAR Cup Playoffs. 
Four races have already happened: the Busch Light Classic at the Coliseum, the Blue-Green Vacations Duel 1 and Duel 2 at Daytona, and the Daytona 500 won by Austin Cindric. 
The goal in NASCAR is for drivers to qualify for the NASCAR Playoffs. But that doesn't mean your players won't pay attention to races during the season. Check out the most popular race in each month leading up to the NASCAR Playoffs, as well as a list of the ten races that comprise the playoffs.
Top NASCAR Races
March 13
Ruoff Mortgage 500 – Phoenix Raceway
April 24
GEICO 500 – Talladega Superspeedway
May 29
Coca-Cola 600 – Charlotte Motor Speedway
June 26
Ally 400 – Nashville Superspeedway
July 31
Verizon 200 at the Brickyard – Indianapolis Motor Speedway Road Course
August 27
Coke Zero Sugar 400 – Daytona International Speedway
NASCAR Playoffs – September 4 – November 6
Playoffs – Round of 16
Southern 500 – Darlington Raceway – Sep. 4

Hollywood Casino 400 – Kansas Speedway – Sep. 11

Bass Pro Shops Night Race – Bristol Motor Speedway – Sep. 17
Playoffs – Round of 12
AutoTrader EchoPark Automotive 500 – Texas Motor Speedway – Sep. 25

YellaWood 500 – Talladega Superspeedway – Oct. 2

Bank of America Roval 400 – Charlotte Motor Speedway Road Course – Oct. 9
Playoffs – Round of 8
South Point 400 – Las Vegas Motor Speedway – Oct. 16

Dixie Vodka 400 – Homestead-Miami Speedway – Oct. 23

Xfinity 500 – Martinsville Speedway – Oct. 30
Playoffs – Championship 4
NASCAR Cup Series Championship – Phoenix Raceway – Nov. 6
NASCAR Top Drivers & Top Four Teams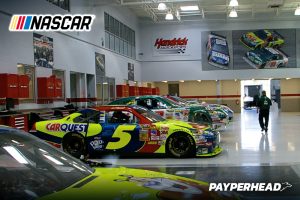 When NASCAR didn't have a playoff, drivers would fight for points, ala what happens in many European soccer leagues. The driver with the most points won the Sprint Cup Championship.
The goal is to send as many drivers as possible to the NASCAR Playoffs. The change in strategy is one of the reasons the team Dale Earnhardt was a part of, Richard Childress Racing, didn't make the top four.  
Check out the four teams and drivers your players will back in your online sportsbook. 
Team Stewart-Haas Racing
Kevin Harvick – No. 4

Aric Almirola – No. 10

Chase Bristol – No. 14

Cole Custer – No. 41
Former Joe Gibbs driver Tony Stewart put together a team. No doubt, Stewart-Haas will succeed if their star driver, Kevin Harvick, finds success. 
The NASCAR betting odds on Harvick to win the Cup make him one of the favorites. Harvick has won the 2014 NASCAR Cup. 
He was the 2020 NASCAR Cup Series regular-season champion. Harvick must bounce back with a solid 2022. 
Aric Almirola won in New Hampshire, but that was it. Team Stewart-Haas didn't win another race all season. 
Team Penske
Austin Cindric – No. 2

Ryan Blaney – No. 12

Joey Logano – No. 22
2021 wasn't a bad season for Team Penske. Although no driver won the NASCAR Cup, all three drivers made it to the Round of 8.
Logano is turning into a stock car auto racing legend. Joey is the first driver to sweep a full round of races in the playoffs. He did it in 2015.
He also won the 2018 Monster Energy NASCAR Cup Series and was the 2009 NASCAR Sprint Cup Series Rookie of the year. 
 Joe Gibbs Racing 
Denny Hamlin – No. 11

Kyle Busch – No. 18

Martin Truex Jr. – No. 19

Cristopher Bell – No. 20
Don't be surprised if online sports betting action makes a Gibbs racer a favorite every week. Denny Hamlin, Kyle Busch, and Martin Truex Jr. offer low Cup Series Championship odds to win. 
Christopher Bell, because he's part of the Gibbs Racing Family, no doubt will soon be one of the top race winners at NASCAR. Joe Gibbs, the former Washington NFL coach, is a serious player.
He often has two drivers in the NASCAR Playoffs Final Four. Some consider Martin Truex Jr. this generation's Jimmie Johnson or Dale Earnhardt. 
Consider using your layoff account if a big futures bet lands on Truex Jr. to win the title. Also, use your layoff account if a big futures bet lands on Denny Hamlin or Kyle Busch. Those two drivers are more than capable of winning the Cup Series Championship. 
Hendrick Motorsports
Kyle Larson – No. 5

Chase Elliott – No. 9

William Byron – No. 24

Alex Bowman – No. 48
Hendrick Motorsports is back. After Jeff Gordon's retirement, many wondered how Hendrick might compete.
When Jimmie Johnson retired, JJ had won as many Cup Series Championship trophies as Dale Earnhardt and Richard Petty, some put a fork into Hendrick. Not so fast.
The top team in NASCAR won seventeen races in 2021. Kyle Larson took home the Cup Series Championship, and Hendrick regained their footing as NASCAR's best stock car team.
Larson is the star, but Chase Elliott, William Byron, and Alex Bowman are more than capable. All roads to the 2022 Cup Series Championship go through Hendrick. 
For sure, set max betting limits on all four drivers' odds to win the title. All four are significant race drivers, meaning they can throw down and take the checkered flag in the most important events of the season and during the NASCAR Playoffs.
The secret to Hendrick's success? Not only do they have great drivers, but they also have terrific crews. Those crews know when to tell Hendrick drivers to head to pit road for gas, new tires, etc.
Timing is everything in a NASCAR race. Hendrick knows this better than any team in the league.      
NASCAR Betting Options
PPH services agents can offer NASCAR betting options on their bookie websites. Check out the top four NASCAR betting categories.
To Win the NASCAR Cup Series Championship
The most popular bet is on odds to win the Cup Series Championship. The NASCAR Cup used to have a sponsor. 
This season, there doesn't appear to be a sponsor. As highlighted above, the goal is to qualify for the end-of-season playoffs. 
The four drivers left standing battle it out in the NASCAR Cup Series Championship at Phoenix Raceway in Avondale, Arizona, on Nov. 4. To win the Cup Series Championship, the driver mustn't win at Phoenix Raceway.
But the driver must finish ahead of the other three Cup Series Championship participants. Set max limits on all NASCAR drivers to win the Cup. 
Odds to Win Options
In addition to Cup Series Championship betting, bookmaker software agents can provide odds to win on individual races. Players back who they believe will become the outright winner of the race. 
Odds to win on the outright winner of a NASCAR event often exceed what most bookie pay per head agents would deem fair. Almost all odds to win are at an overlay number, which means no matter which driver wins the race, your sports betting agent site is at risk of losing money.
So set max limits and use your layoff account. Set bet alerts on drivers like Harvick, Truex Jr., Larson, and Logano if you see a pattern where action flows to those drivers. 
Driver Matchups
Instead of backing odds to win on a specific driver to win any given race, oddsmaking experts often set driver matchup odds. Driver matchups in NASCAR are like betting on a boxing or mixed martial arts contest.
The player decides which driver wins the matchup. If the player's driver beats the opponent in the matchup, the player wins the bet. 
Per head agents shouldn't allow players to add driver matchup bets to parlays. Online bookie software agents should also set max limits on all driver matchups. 
Premium Props 
Like other sports, players can bet on individual driver performance via Premium Props. 
Top drivers like Martin Truex Jr., Kevin Harvick, Kyle Busch, Joey Logano, and now Christopher Bell provide odds to win and an individual performance like how many laps a driver will lead in a race.
All prime platforms increase action. Premium Props can increase bookmaking revenue and profit. Action from Premium Props should rise at least 15% and could add 20% or more to your sportsbook.   
Transfer to PayPerHead and use proprietary software free for two weeks
By importing players to PayPerHead sportsbook software, you ensure players can wager on a platform that offers options from 80+ leagues. You can also add platforms that increase action by 15% or more.
We've found that agents who switch to our PPH sports website software witness a 23% revenue rise on average no matter the sportsbook's size. The two free weeks promotion includes all our platforms and tools, including the APS, where your players can deposit directly into their accounts to make agent payments online. 
Go with the leader of the pack. Call 1-800-605-4767 and get started today.