Going into week 11, it's an excellent time to compare the AFC standings with their ATS placements. Knowing the ATS performance of any club is vital to bookies who want to keep their profits rolling in. Betting straight-up may be the easiest way for players to wager, rather than ATS, but it doesn't make them the most money. 
Betting against the spread has great appeal for players and agents alike. You can sometimes find some real gems to bet on that are under the radar. Here's a look at some of the top teams in the AFC and how they measure up Against the Spread.
Tennessee Titans
The Titans are currently leading the American Football Conference after ten games with a record of 8-2. Those points are evenly spread between home and away games at 4-1 each, so they don't have an advantage or disadvantage of being the home team on Sunday. 
They're averaging 347.5 yards per game. There's no denying that everyone expects the Titans to beat The Houston Texans this weekend, but the big discussion is by how much? The spread is 9.5 points for the favorites. It's probably the most lopsided matchup of the week, almost hitting double digits.
On top of having an impressive straight-up record, they also have an impressive seven wins against the spread. The Cardinals are also 7-3-0. The only AFC teams with more wins against the spread are the Packers (9-1-0) and the Cowboys (8-1-0). Those are stats to watch out for when your players are making ATS bets.
Indianapolis Colts
Jonathan Taylor is tied for first place in the NFL with 937 rushing yards. He picked up 116 yards against Jacksonville to tally up his fifth 100-yard rushing game of the season. Quarterback Carson Wentz is hoping to get past his worst 2020 season but is mainly restricted to ground play with the Colts. He was able to get a win over the Jaguars without a touchdown and bring their record up to 5-5. 
They have an ATS betting total of 6-4-0, but even more interestingly, their ATS on the road is 3-1. That might be a good bet to take for this Sunday's game in Buffalo.  
Buffalo Bills
The Bills had an easy win over the struggling New York Jets in Week 10 action. Josh Allen continues to impress with 366 yards and two touchdown passes. He had his 12th career 300-yard passing game. 
The Indianapolis Colts might not be doing as well as the Bills in the AFC standings, but they've got a better ATS record. The Bills have a total ATS of 5-3-1 and only 2-1-1 at home. 
Both teams are fighting for a playoff spot, with the Bills on top of the AFC East and the Colts battling against the Titans in the AFC South. 
New England Patriots
The Patriots seemed to have turned themselves around. Having started the season with a 2-4 record, they've bounced back with four straight wins. Their last game against the Cleveland Browns, who had the same record, shows that they are "better than their record," as said by Matthew Judon. They soundly beat Cleveland 38-7. On Thursday, they'll be in Atlanta to take on the Falcons. 
Both New England and Atlanta have an ATS betting record exactly the same as their straight-up score New England at 6-4-0 and Atlanta at 4-5-0. 
This season, New England has a perfect away record at 4-0, while Atlanta's home record is only 1-3. The Falcons meeting New England in Atlanta is definitely not a hometown advantage. 
The Falcons are 1-3 at home ATS while the Patriots are 3-1 ATS when playing away. Not as good as the straight-up record, but still a good record of beating the spread when playing away.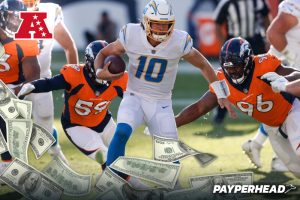 Los Angeles Chargers
The Chargers have been having a difficult time, being inconsistent with their offense. They were starting to look good after their win against the Eagles. But then they put on a poor performance against the Vikings and lost 27-20. Their straight-up and ATS records are precisely the same: Total (5-4-0) Home (2-3-0) Away (3-1-0). Since they'll be hosting the Steelers this weekend, they are probably not a great team to bet on for a home game. 
The Steelers have a similar record as the Chargers, but they are the only football team that didn't beat the Detroit Lions this season, suffering a 16-16 tie against them. Their ATS betting away score (2-1-0) is much better than their home score (1-5-0). Betting on the Steelers ATS might be the best play to make for this Sunday night football game.
Denver Broncos
Teddy Bridgewater and company did a great job, soundly beating the Cowboys in week 9 (30-16), but then didn't show up for the next game against the Eagles. Their 30-13 loss was tough for the home fans to watch. The Broncos will have the bye week to lick their wounds. Their 5-5 record has them at the bottom of the AFC West division, but they are only one win away from the top spot. 
Their ATS is also exactly the same as their win-loss record. It's pretty close to 50-50 across the board. Nothing stands out to place a wager on.
Cleveland Browns
As with the Denver Broncos, the Browns have a 5-5 record and are in last place in their tight division. They haven't been able to put together any kind of winning streak, but that could be because of injuries and players on the Reserve/COVID-19 list. 
They will be playing Detroit this weekend and can let the injured players take one more week to heal. The Browns will need the extra time to get ready for their Week 12 game against a much tougher Baltimore. 
Cleveland's ATS is also at 5-5, but their home record is only 2-3. At least Detroit has an ATS on the road record of 3-2. 
Las Vegas Raiders
They had a good record until their last two games, which were both losses. Even though their head coach thought they were well prepared for their last game, they lost 41-14 against the Kansas City Chiefs. Their record of 5-4 is a little better than their ATS score of 4-5. 
But they are playing the team sharing their position on the conference rankings. The Cincinnati Bengals not only have the same record, but they've also lost their last two games. The only difference between the two NFL teams is that Cincinnati is coming off of a bye week. 
Cincinnati Bengals
Since 2016, the Bengals have had a 0-5 losing record after coming off of a bye week. Losing the two games before that doesn't give betters confidence that they'll change that stat. Their quarterback, Joe Burrow, leads the league with 11 interceptions. But he's done well with rookie Ja'Marr Chase, who has 835 receiving yards and seven touchdowns. 
On their ground game, Burrow has relied on running back Joe Mixon to run 636 yards and seven touchdowns. Cincinnati's ATS betting is 4-5, the same as the Raiders. The best bet might be on following the 0-5 losing streak after each bye week.
Houston Texans
While the Titans are in first place in the AFC, enjoying a six-game winning streak, the Texans are going in the opposite direction. They are in the unenvious last place position in the AFC, having only won their first game against the Jacksonville Jaguars. With eight straight losses, they must now take on the first place Titans, who are on a winning streak. 
Their ATS record isn't as bad. They currently sit at 4-5-0
ATS Betting on the Spread
Check out PayPerHead for the best pay per head sportsbook software. Agents can offer all 2021-2022 NFL betting options in any regular or playoff game, including ATS. 
With over 80 sports leagues to choose from, your players will never miss out on their favorite teams, players, and matchups. 
Sign up for our Super Bowl promo. You pay $3 per head from the moment you activate your account until Sunday, February 13, 2022.